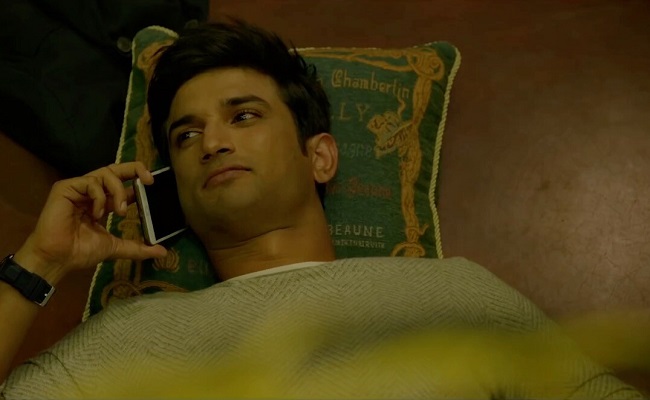 Movie: Dil Bechara
Rating: 3/5
Cast: Sushant Singh Rajput, Sanjana Sanghi, Swastika Mukherjee, Saif Ali Khan, and others
Music: A R Rahman
Cinematography: Satyajit Pande
Producers: Fox Star Studios
Directed by: Mukesh Chchabra
Release Date: 24 July 2020
OTT Platform: Disney+ Hotstar
A lot of us still feel pain with the death of Bollywood's rising star Sushant Singh Rajput, who was part of some beautiful films that include 'Kai Po Che' and 'Chhichhore'.
Mumbai police are still questioning various cinema personalities in the case of Sushant's suicide.
His last film, 'Dil Bechara', is here, streaming on Disney Hotstar. Read to know more about the handsome actor's final movie.
Story:
A Bengali girl Kizie Basu (Sanjana Sanghi) suffers from thyroid cancer. She always keeps an oxygen cylinder with her.
Manny (Sushant Singh Rajput), who is also a cancer patient, instantly falls for her.
Despite having lost a leg to cancer, Manny has a cheerful attitude and this makes her fall in love with him.
When her health condition deteriorates, Manny takes her to Paris to fulfill her wish of meeting her favorite musician Abhimanyu Veer (Saif Ali Khan). What happens then?
Artistes' Performances:
'Dil Bechara' reaffirms why Sushant Singh Rajput is loved by crores of people, why everyone felt pain with his sudden demise. His effervescent attitude, his smile steals the hearts in this film as well. Sushant in his last film gave his best. He makes us teary-eyed in the end.
Newcomer Sanjana wins with her innocent face and cute expressions.
Saswata Chatterjee and Swastika Mukherjee as Sanjana's parents lend credible performances. Saif Ali Khan makes a cameo appearance.
Technical Excellence:
Since the heroine is a music lover, songs are an integral part of the narration, and Oscar winner Rahman has provided peppy and youthful numbers like "Dil Bechara" and "Khulke Jeene Ka".
Music is the soul of this romantic drama. Cinematography, production design, and dialogue writing are worth noting.
Highlights:
Sushant Singh Rajput
Rehman's music
Sanjana Sanghi's cuteness
Drawback:
Slow narration
Dull middle portion
Analysis
Based on a Hollywood film, The Fault in Our Stars, "Dil Bechara" is Sushant Singh Rajput's swansong.
The basic plotline – two youngsters stricken with cancer falling in love - may remind us of Mani Ratnam's "Geetanjali" but this romantic drama is unique in its own right.
Unlike "Geetanjali", both the boy and girl meet in a cancer support group and start liking each other immediately.
What happens after the initial setup is easily predictable but the movie relies less on the story and its twists than the lead actors. They impress with their charm. Their chemistry is endearing.
"Dil Bechara" largely succeeds thanks to a winning performance from Sushant and also because of the film's ending. When Sushant asks his girlfriend and his friend to read out a eulogy for him, it would be difficult for his fans to hold tears.
As said, the plot is simple and the narration is also slow but it has moments. Throughout the film, Sushant's real-life fate comes into your thoughts.
A dialogue in the film - Jeena aur marna toh hum decide nahi karte, lekin kaise jeena hai ye hum decide kar sakte hain (We can't decide our birth and death but we can lead a life as we want) reflects Sushant's personality.
Set in Jamshedpur, the film conveys the message of living life to the fullest.
"Dil Bechara" is an emotional roller-coaster ride that leaves us in tears. Despite its stumbling narration at places, the climax makes the difference. The end is a reflection of Sushant's real life. Talent has gone too soon. In a nutshell, it is a perfect tribute to the late actor, watch it for him.
Bottom-line: Tearful End
Click Here for Latest Direct-to-OTT Releases (List Updates Daily)