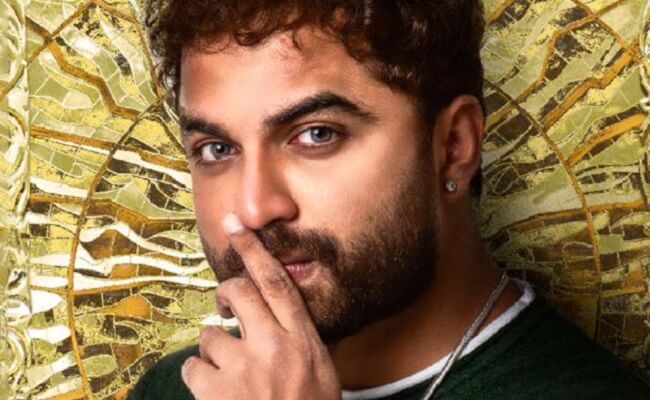 Movie: Das Ka Dhamki
Rating: 2.25/5
Banner: Vanmayee Creations
Cast: Vishwak Sen, Nivetha Pethuraj, Akshara Goud, Rao Ramesh, Rohini Molleti, Shaurya Kare, Ajay, Hyper Aadi, Mahesh Anchata, Murali Goud and others
Story: Prasanna Kumar Bezawada
Music: Leon James
Cinematography: Dinesh K Babu
Editor: Anwar Ali
Producer: Karate Raju
Screenplay, Dialogues and Direction: Vishwak Sen
Release Date: March 22, 2023
Vishwak Sen is a multi-talented person as he is both an actor and a director. He had previously directed "Falaknuma Das" and had returned to it after a brief break.
He went all out to aggressively promote the film, and his belief in it made people turn towards theatres.
Story:
Krishna Das (Vishwak Sen) is a waiter in a five star hotel. He grew up in an orphanage with his friends (Hyper Adhi and Mahesh Achanta) who also work in the same hotel.
When a beautiful girl Keerthy (Nivetha Pethuraj) mistakes him for a rich customer in the hotel, things take a different turn. They begin dating as she believes him the CEO of a pharma company, and he hopes to get a family of his own.
When Sanjay (Vishwak Sen), the real CEO of SR Pharma company, gets killed in a road accident, Krishna Das is asked by the uncle of Sanjay to act like the real CEO for a few days.
What will happen when the waiter becomes the CEO?
Artistes' Performances:
Vishwak Sen effortlessly portrays the role of a waiter, and his playful performance in the first half provides a lot of entertainment. However, although he plays a dual role, the characterization of the other character is insufficient. As a result, Vishwak Sen is ineffective in the other role, which has negative connotations.
Nivetha Pethuraj portrays a glamorous role, and she does it justice. Despite having less screen time in the latter half of the film, she performs her role well and has fantastic chemistry with Vishwak Sen.
Hyper Aadi delivers some effective comedic punches, while Rao Ramesh, Ajay, Rohini, Prudhvi Raj, and Murali Goud all give good performances.
Technical Excellence:
"Almost Padipoya Pilla," a romantic duet, is catchy and upbeat. The first song, "Mama Bro," is also okay. The film's production values are lavish. The writing and editing are shortcomings.
Highlights:
Couple of sequences
Interval bang
Drawback:
Most of the second half
Unconvincing twists and turns
Weak writing
Direction
Analysis
Bejawada Prasanna Kumar, the writer of the recent blockbuster "Dhamaka," wrote the story for "Das Ka Dhamki." Although "Dhamki" and "Dhamaka" sound similar, the plot of the film appears to be almost identical at first glance.
However, the screenplay of the film seems to have been changed, and many twists and turns have been added to differentiate it from "Dhamaka." Unfortunately, the second half of the film, which is filled with twists and surprises, feels forced and does not flow organically.
Vishwak Sen is more comfortable with comedy and romance, which dominate the first half of the film. The movie starts with Vishwak Sen playing a waiter at a five-star hotel, and his playful romance with Nivetha Pethuraj, who mistakenly thinks he's wealthy, provides some light entertainment.
The chemistry between them is palpable, and despite the predictable plot, the first half of the film works well because of their hot chemistry and the comedy.
The first significant twist that occurs at the interval bang also piques the audience's interest.
Vishwak Sen wrote the screenplay, directed the film, and played two roles, but as mentioned earlier, too many twists have been added to differentiate it from "Dhamaka," resulting in irritating rather than surprising the audience.
Furthermore, the plot fizzles out completely, and the twists become as ridiculous as those seen in Ravi Teja's "Khiladi." The sentiment scene involving Vishwak Sen and Rohini is terrible.
After the audience breathes a sigh of relief at the conclusion, the film abruptly continues for another 10 minutes to announce that "part 2" will soon begin loading.
Overall, "Das Ka Dhamki" starts off as a lighthearted rom-com but ends up as a clumsy thriller with a messy second half. Vishwak Sen performs better as an actor than as a director.
Bottomline: Messed Up