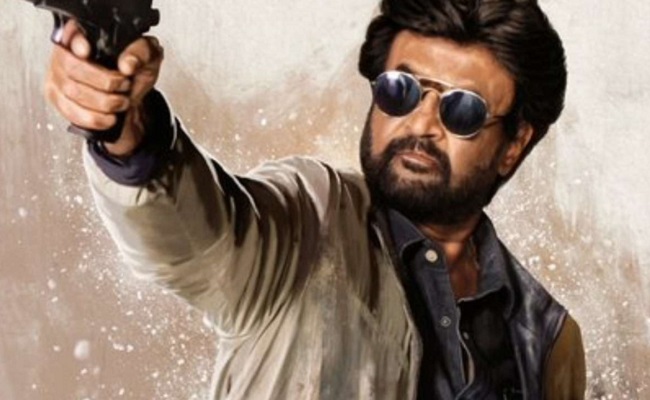 Movie: Darbar
Rating: 2.5/5
Banner: Lyca Productions
Cast: Rajinikanth, Nayanthara, Nivetha Thomas, Suniel Shetty, Yogi Babu, Sriman, Prateik Babbar, and others
Music: Anirudh Ravichander
Cinematography: Santosh Sivan
Editing: A Sreekara Prasad
Fights: Peter Hein, Ram-Lakshman
Producers: Subaskaran
Written and directed by AR Murugadoss
Release date: Jan 09, 2020
Superstar Rajinikanth and director Murugadoss, a combination that fans have been wishing to see has finally materialized. Their first film 'Darbar' is here. After a long time, Rajinikanth returns to playing a cop role. And this cop is bad.
Let's find out whether this film meets the expectations.
Story:
Aaditya Arunachalam (Rajinikanth) is a police officer with his own rules. He may seem a bad cop but he goes against the rules only to eliminate criminals, to make the society free of crime.
He is deputed in Mumbai city as commissioner of police and he deals with the drug mafia ruthlessly, he encounters them.
He lives with his only daughter Valli (Nivetha Thomas) and their life is in danger from a local don.
Artistes' Performances:
In the role of a police commissioner, Superstar Rajinikanth is a treat to watch. He has played to the gallery with his mannerisms. This is a one-man show. He has looked quite younger too. The styling is trendy.
Nivetha Thomas as Rajinikanth's doting daughter steals the show. She gets more footage than the movie's heroine.
Nayanthara as Rajinikanth's pair is perfect but she has nothing much to play here except appearing in a couple of scenes.
Suniel Shetty as the main villain is wrong casting and also his characterization is bad.
Technical Excellence:
Lavish production design and slick visuals have given the film a rich tone. Santosh Sivan's top-class camerawork not has provided visual beauty but it has also presented Rajinikanth in his stylish best with a younger appearance.
While camera work is top-class, the music is a huge letdown. Anirudh Ravichander has failed to provide any catchy tunes. Action stunts are superb.
Highlights:
Rajinikanth's style and performance
Racy first half
Railway station fight sequence
Drawback:
Thin plot
Boring final moments
Weak songs
No strong villain
Analysis
Director Murugadoss used to make gripping commercial action movies like 'Ghajini' and 'Thupaki' which had connected to all sections of audiences and worked in all languages but his recent movies have been off the mark. These films prove that he is completely out of form.
Despite teaming up with the biggest superstar Rajinikanth, Murugadoss has not done proper work on the script. With a thin plot and formulaic writing, the director has completely relied on Rajinikanth's swag.
A strong villain characterization, a terrific romantic thread, and a unique point have been the common features of Murugadoss's old blockbusters but here none of these elements can be seen.
The main villain has cardboard characterization, the angle of drug mafia is beaten to death and the romantic thread between Nayanthara and Rajinikanth lacks effervescence.
However, Rajinikanth's bad cop mannerisms, his trademark 'villain' act, and style have made the first half an enjoyable experience. Added to that the proceedings in the first half have ended in a jiffy.
By the post-interval, the audiences come to know who the villain is and his motives, the only thing left is the hero getting to know the villain's identity. Here, the screenplay has suffered big time. There is no big reveal in the end.
Although there is one clap worthy fight sequence in a metro station and a touching sentiment scene between father and daughter played by Rajinikanth and Nivetha, the prolonged second half with plain and dreary proceedings has undone.
The last half hour and the climax are a huge letdown.
In a nutshell, director AR Muguadoss has placed a huge burden on 69-year-old Rajinikanth's feeble shoulders to carry the movie. "Darbar" ends as a half-backed commercial potboiler.
Bottom-line: Predictable
Click Here for Latest Direct-to-OTT Releases (List Updates Daily)