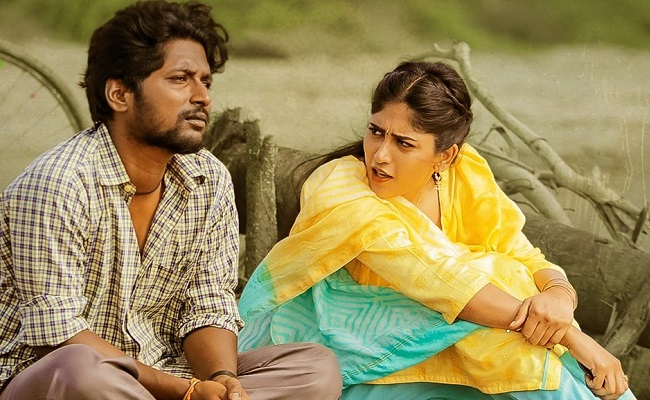 Movie: Color Photo
Rating: 2.5/5
Banner: Amrutha Productions
Cast: Suhas, Chandini Chowdary, Sunil, Viva Harsha, Divya Sripada, and others
Story: Sai Rajesh
Music: Kaala Bhairava
Cinematography: Venkat R Shakamuri
Editor: Kodati Pavan Kalyan
Producers: Sai Rajesh, Ravindra Benarjee Muppaneni
Written and directed by Sandeep Raj
Release date: October 22, 2020
Streaming on: Aha Video
Comedian Suhas has turned a hero with 'Color Photo' that is created specifically for the OTT platform. During this festival period, 'Color Photo' is the only Telugu release on OTT space.
Let's check its merits and demerits...
Story:
The story begins with Deepthi Varma (Chandini Chowdary) along with her husband coming down from San Francisco to Machilipatnam to the funeral of her father. She doesn't shed a single tear at the loss.
Even before the last rites were performed, she takes a jeep to see around her hometown. There's a reason for her shocking behavior.
She reminisces her Engineering college days (1997 – 2001), how she fell in love with a dark-skinned poor student Jayakrishna (Suhas), how their romance was short-lived.
Artistes' Performances:
Comedian Suhas in his maiden lead role is sincere in his effort. As he himself says in the film, he is not 'Kathanayakudu' but 'Katha Vastuvu'. As a dark-skinned poor student, he fits to the T. This is a serious role and he has pulled it off.
Telugu girl Chandini Chowdary is impressive. Her performance in certain portions is likable. But she should have worked better in the climax portions.
But the biggest surprise in the film is Sunil. It has been his dream to play a negative character and the senior actor comes through with flying colours. His is a well-written character. Sunil is brilliant here.
Technical Excellence:
As the film is made solely for the OTT space, the production and technical values have met the same standards. Kaala Bhairava's music, especially the background score, is a huge plus point. Some dialogues linger on.
Highlights:
Suhas's performance
Dialogues
Drawback:
Slow narration
Predictable sequences
College scenes are clichéd
Analysis
Debutant Sandeep Raj's 'Color Photo', based on the story by Sai Rajesh, talks about colorism that is prevalent in our society.
The genre of love stories has dealt with issues including casteism, and honor killings. What other new topics would a writer come up with for a conflict point for a love story? Here, Sai Rajesh has touched upon this issue of colorism.
While this issue has not been dealt with much in our films, the proceedings have little novelty. Like in all regular love stories, the film is narrated in flashback, and the story takes place in the late 1990s.
Like all romantic dramas that go down nostalgia trip, "Color Photo" also uses the same tropes to drive the point.
The hero and heroine meeting secretively within the college, using matchboxes as a telephone, and the gang of friends, comedy revolving stage plays, the rich girl and the poor boy… all remind the Teja directed romantic movies like "Nuvvu Nenu" and "Jayam". There is also a reference to "Nuvvu Nennu" to say that reality is different from what we see in the movies.
The romance is cliched. The film's middle portions are not only slow-paced but also are dull. The late 1990's portions are presented as if the film is taking place in the 1970s and '80s. Such old-school jokes revolving around stage plays and regular college sequences have evoked little enthusiasm.
In a nutshell, "Color Photo" is a slow-paced love story that talks about colorism.
Bottom-line: 'Color' Issue
Click Here for Latest Direct-to-OTT Releases (List Updates Daily)