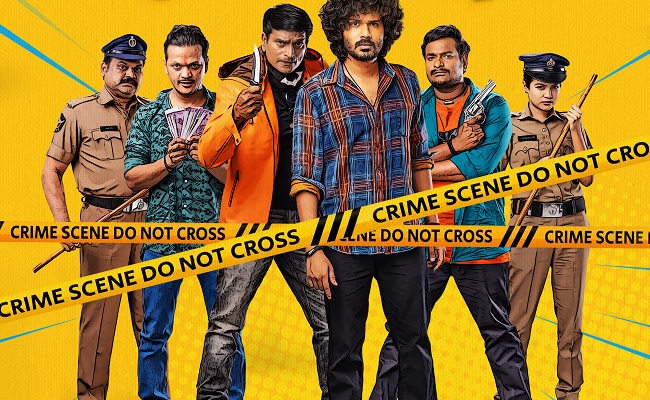 Movie: Changure Bangaru Raja
Rating: 1.5/5
Banner: RT Team Works, FrameByFrame Pictures
Cast: Karthik Rathnam, Goldie Nissy, Satya, Gateelu, Ajay, Vasu Inturi and others
Music: Krishna Saurabh
Dialogues: Janardhan Pasumarthi
DoP: Sundar Nc
Editor: Karthik Vunnava
Art Director: Narni Srinivas
Creative Producers: Swetha Kakarlapudi, Shalini Nambu
Producer: Ravi Teja
Writer & Director: Satish Varma
Release Date: September 15, 2023
The only reason "Changure Bangaru Raja" caught attention despite low promotion is that it was produced by hero Ravi Teja. What made Ravi Teja put money on this film?
Let's find out.
Story:
Bangarraju (played by Karthik Ratnam) works as a bike mechanic in a village near Narsipatnam, Andhra Pradesh. He has a deep admiration for Police Constable Manga (Goldie Nissy).
In this village, whenever it rains, the entire community engages in the activity of digging for precious stones.
During one such digging session, Bangarraju becomes involved in a heated argument with another villager, Sominaudu. Unfortunately, the following day, Sominaudu is discovered dead.
Bangarraju finds himself under suspicion for the murder of Sominaudu. The story unfolds as Bangarraju strives to prove his innocence.
Along the way, other characters, such as his friend Satya and a professional killer, become entangled in the narrative, adding depth and intrigue to the plot.
Artistes' Performances:
Karthik Rathnam, who has appeared in films such as "C/o Kancharapalem" and "Narappa", plays the character mechanically.
Goldie Nissy, a newcomer, looks more like any other actor than the female protagonist. Satya's comedy has become routine.
Ravi Babu's attempt to be funny as a professional murderer with memory problems falls flat.
Suneel's voiceover of a dog's character hasn't helped much.
Technical Excellence:
The film is made on a limited budget. So, the cinematography, production design and other technical output is just bare minimum.
Highlights:
None
Drawback:
Not a single scene is interesting
Slow and boring narration
No comedy
Weak direction
Analysis
The opening of the new director Satish Varma's "Changure Bangaru Raja" suggests that the story will be presented from multiple perspectives, including those of Bangarraju, Tatha Rao (Satya), and others.
Regardless of the viewpoint presented, only the truth remains constant. Unfortunately, the audience is subjected to over two hours of tedious narration before finally discovering the truth.
The movie's plot can be summarized in a single sentence: A young man in this story is wrongly accused of murder and must go to great lengths to clear his name. This thin plot is divided into numerous chapters, each featuring largely the same events, none of which are particularly interesting or entertaining.
The storytelling lacks engagement, with the exception of the opening sequences depicting people searching for precious stones. The film's length is extended by romantic sequences involving Karthik Ratnam and Goldie, Satya and Nithyasri, and Ravi Babu and Esther, none of which are endearing or humorous.
Furthermore, there is no suspense in uncovering the truth, as it becomes evident from the very beginning.
The banter between an SI (Ajay) and his constable only adds to the monotony. There is an extended scene that showcases actor Satya's mother's ear condition ('Brahma Chevudu'). This sequence reflects the director's outdated ideas.
The main narrative is incoherent due to weak writing and unoriginal jokes.
Overall, "Changure Bangaru Raja" leaves us wishing for a run rather than enduring such an old-fashioned film. The lack of comedic spark and a dull narrative make this movie quite boring.
Bottom line: Chaalaa Boring Raja