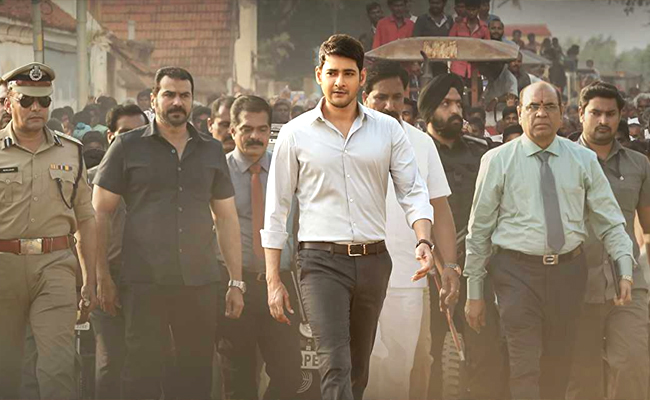 Movie: Bharat Ane Nenu
Rating: 3.25/5
Banner: DVV Entertainments
Cast: Mahesh Babu, Kiara Advani, Sharat Kumar, Prakash Raj, Aamani, Sithara, Rao Ramesh, Devaraj, Posani and others
Music: Devi Sri Prasad
Cinematography: Thiru, Ravi K Chandran
Editing: A Sreekar Prasad
Production design: Suresh Selvarajan
Action stunts: Ram - Laxman
Producer: Danayya DVV
Written and Direction: Koratala Siva
Release date: April 20, 2018
"Bharat Ane Nenu" is one of the most-anticipated Telugu big movies this year as it marked the second coming together of Mahesh Babu and top director Koratala Siva after their record-breaking blockbuster "Srimanthudu". Mahesh Babu playing the Chief Minister's role has further raised curiosity.
Let's find out whether the film has lived up to all the expectations.
Story:
Story is set before Andhra Pradesh was divided into two states. Bharat Ram (Mahesh Babu) who is studying in foreign gets call from India that his father Raghava (Sharat Kumar) who is Chief Minister of Andhra Pradesh has passed away.
The idealistic Bharat Ram now is entrusted to take up father's CM post. He takes the help of his father's friend Varadarajulu (Prakash Raj) in administration but soon realizes that Varadarajulu is misusing power and indulging in corruption and illegal activities. Meanwhile, he falls in love with young staff member of his office Vasumati (Kiara).
The story is all about how his love life becomes a problem and how the crooked Varadarajulu tries to topple his government.
Artistes' Performances:
Mahesh Babu who is regarded as one of the finest performers in Indian cinema has excelled once again. In the role of Chief Minister, he is dashing, dignified and lent his own charisma with intense act. Like always, he is spotless in emotional episodes of the movie. His best is seen in the episode of press meet in the second half. The film is completely his show. With firm body language he arrests us to the screens.
Kiara Advani makes confident debut. She is beautiful as Vasumathi. Prakash Raj as crooked politician reminds us of everyday politician. Sharat Kumar as Mahesh Babu's father, Rao Ramesh as heroine's father, Devaraj as opposition leader and Posani as Minister Mallesh are perfect in their respective roles. Aamani and Sithara too have done justice to their roles.
Technical Excellence:
Best cinematography and excellent music are the hallmarks of Koratala's movies. The renowned cinematographer Ravi K Chandran (who did some work) and Thiru (who also worked for 'Janatha Garage') have given classy output. The film has efficient production design too (assembly set is perfect).
Devi Sri Prasad has come up with good songs. More than the songs, his background scores are the major asset. Pace of the movie is slow, the film needs trimming in the second half.
Highlights:
Mahesh Babu's performance
Press Meet episode
Emotional sequences
Assembly scenes
Drawback:
Predictable story
Slow narration
Analysis
Making political dramas is the toughest job because the maker has to do a balancing act. Director Koratala Siva speaks about the flaws in the system rather than targeting one party or glorifying the other. He talks about accountability of elected officials and responsibility of the people adhering to the laws.
Creating leaderless society is the real meaning of leadership -- is the theme of his political drama. This theme sets the film apart from other similar political dramas centered on young CMs like Sekhar Kammula's "Leader" and Shankar's "Oke Okkadu".
Koratala has developed a different knack for telling stories with mass heroes. He doesn't resort to comedy tracks, he doesn't focus too much on romance except adding customary songs, yet he holds the interest of the common audiences and also elevates heroism.
In "Bharat Ane Nenu", he begins the story in a straightforward manner – a son becomes CM when his father dies suddenly. He first narrates the back story of hero's mother, his relationship with his mother and establishes the basis for main drama. Thus, he takes too much of time to come to the main point in the first half.
However, once Mahesh Babu takes charge as chief minister, the film turns quite interesting and engaging. Though it slips occasionally, the funny romantic thread between the CM and a college girl and the first assembly session are major highlights in the first half.
The interval bang is perfect. It reveals who is the protagonist and what fight the hero has to take. Interestingly, there is no single action episode in the entire first half, which is quite unique for a big star movie.
Post-interval, the movie focuses on heroism. Mahesh Babu teaching an MLA lesson in Rayalaseema and the first fight in Durga Mahal theatre is terrific. This as unique as 'mamidi thota' sequence in Srimanthudu. Later the movie dips as Mahesh focuses on changes that he brings in governance. In this, he introduces a concept of local governance. These sequences are quite routine and give déjà vu feel. Such sequences were novel when Shankar made "Oke Okkadu".
Luckily, the story introduces a twist and Mahesh Babu's terrific performance in the "press meet episode" brings the movie back on to track. This is the highlight of the movie.
What works in the film are Mahesh Babu's absolute charisma, his performance and two episodes (Durga Mahal and press meet).
The story doesn't offer anything new, the screenplay is also regular, but still Koratala weaves magic in holding the interest till the end.
It is not easy to hold interest in a movie that has nearly 3 hours runtime without an item song, or silly comedy track, or too many fight sequences.
On the downside, the film has very slow narration, second half is full of clichéd scenes.
Bottom-line: The Leader