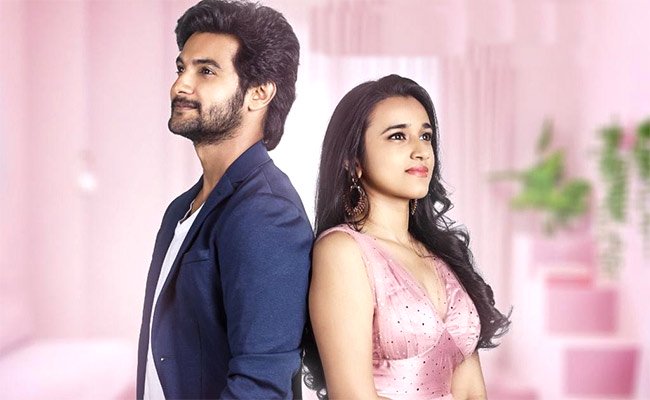 Movie: Atithi Devo Bhava
Rating: 1.5/5
Banner: Srinivasa Cine Creations
Cast: Aadi Sai Kumar, Nuveksha, Saptagiri, Rohini, and others
Music: Sekhar Chandra
Editor: Karthika Srinivasa
Director of Photography: Amarnath Bommireddy
Producers: Rajababu Miryala, Ashok Reddy Miryala
Directed by: Polimera Nageshwar
Release Date: Jan 07, 2022
The first film to hit the theaters in New Year 2022 is an Aadi Sai Kumar starrer.
Let's check out its merits and demerits.
Story:
Abhay (Aadi Sai Kumar) works in a software company. He has monophobia. Abhay kills himself if he is left alone for a few minutes.
Abhay's mother asks him to get married as he would get company for the rest of his life. He likes a girl Vaishali (Nuveksha), but he buys time to tell his problem to her.
One day, he lands in a situation to be alone in his home. He asks his friend Giri (Saptagiri) for company.
A night where he has to spend alone leads to many problems. How does he solve them?
Artistes' Performances:
Aadi Saikumar does the role in his regular manner. He plays a software professional, but he beats up goons and police officers as if he were a pahilwan.
Newcomer Nuveksha is okay. Rohini does justice to her role. Saptagiri as a hero's buddy doesn't provide much entertainment.
Technical Excellence:
Sekhar Chandra has given two lilting songs. The cinematography is decent. Dialogue writing and editing are clumsy.
Highlights:
Main plot point
Drawback:
Dull Narration
Pre-interval sequence
Dragging second half
Lack of strong conflict
Analysis
We have seen 'Ghajini with short-term memory loss. We have seen Nikhil Siddhartha facing a problem with sunlight.
"Atithi Devo Bhava" talks about a new phobia or disease: Monophobia. As explained by a doctor in the film, it is a mental health condition. Fear of being alone! A hero who had such a problem is not heard of. In that sense, the storyline has some novelty.
"Atithi Devo Bhava" deals with a novel problem, but the narrative has age-old problems like lack of effective direction, poor writing, dragged scenes, etc.
The director has taken nearly 30 minutes to introduce the hero's problem and other characters. After establishing everything, the film completely goes directionless. The hero has a phobia of being alone, but in many places, he behaves like a psycho. He also acts like a person who doesn't have common sense.
His behavior with a thief and relative of his adjacent flat is a clear example that the director has filled scenes as per his whim to fill the gap.
The whole point stands on a single element – the hero doesn't even tell his phobia to his close friend and his lover. So, he forces people to be near him, which leads to misunderstanding. Had this situation been dealt with in a humorous way, it would have worked.
Or had it been narrated like a thriller, it would have been different. But it goes nowhere. The entire point loses its focus after a point and becomes a boring affair. The scenes of monophobia also become monotonous after a while.
The biggest problem is the uninvolving narrative. Many scenes in the film look cinematic and defy logic. The second half entirely takes place in one night.
It feels like the director clearly doesn't know what he really wants to tell. Despite having a couple of pleasant songs, and the illogical situations and boring treatment, "Atithi Devo Bhava" doesn't engage us at all.
Bottom line: No Entry