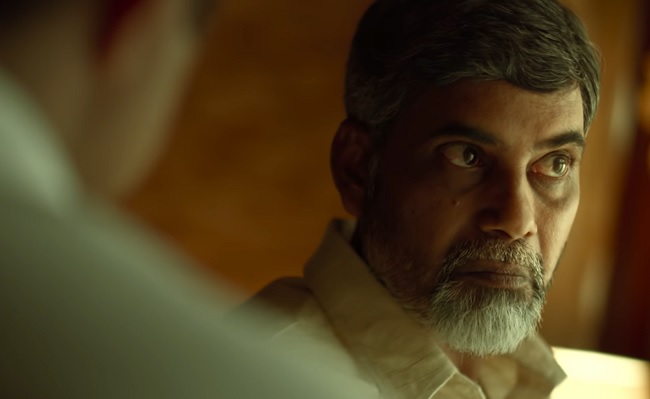 Movie: Amma Rajyamlo Kadapa Biddalu
Rating: 1/5
Banner: Tiger Company Production
Cast: Ajmal Ameer, Dhananjay Prabhune, Dheeraj, Ali, Dhanraj, Prudhvi, Mahesh Kathi, Swapna and others
Music: Ravi Shankar
Cinematography: Jagadeesh Chikati
Art: Gandhi Nadikudikar
Editing: Anwar Ali
Producer: Ajay Mysore
Written by: Ram Gopal Varma and Karun Venkat
Directed by: Siddharth Thatholu
Release date: Dec 12, 2019
After "Lakshmi's NTR", Ram Gopal Varma has created huge controversy with this latest outing. After landing in legal tussle and censor problems, "Kamma Rajyamlo Kadapa Reddlu" got cleared and is here with the title "Amma Rajyamlo Kadapa Biddalu".
Let's analyze.
Story:
After Babu's Velugu Desam party sees huge drubbing in the general elections, Jagannadha Reddy becomes Chief Minister of Andhra Pradesh.
A few months later the humiliated group belonging to Babu hatches a plan to bring a bad name to CM Jagannadha Reddy.
Dayaneni Rama gets killed in Vijayawada, Babu, Pranay Kalyan, and other leaders accused that Jagannadha Reddy's party man is behind this murder.
In a dramatic turn, Jaganndha Reddy resigns as CM and midterm polls are announced. What happens next?
Artistes' Performances:
On thing that Ram Gopal Varma and his team have been getting right these days is the casting. This team has mastered the art of selecting actors that exactly resemble the living persons. As Babugaru aka Chandrababu Naidu, new actor Dhananjay Prabhune is fittingly perfect. He has the looks and body language.
As Jagannadha Reddy, Tamil actor Ajmal Ameer ('Rangam' fame) is also pitch-perfect. Dheeraj as Chinna Babu has given a hilarious performance.
The actor who did the role of Pranay Kalyan has imitated the body language of Pawan Kalyan well. But the one who steals the show is Nutan Naidu who played the role of PP John (aka KA Paul).
Technical Excellence:
Cinematography is decent. Ravi Shankar's music is loud. There is nothing much to talk about in other technical departments.
Highlights:
KA Paul's spoof
Some scenes about Lokesh
Drawback:
Silly storyline
Boring narration
Incoherence in the second half
Crossing all limits of the personal space
Analysis
If made well, there is no gripping story than a political drama. Similarly, political spoofs easily get connected to the audiences if they are made with a serious approach. Expecting seriousness from Ram Gopal Varma today is like hoping to buy onions at Rs 1 per kg.
RGV has not directed this film but he has written the story and screenplay and also appears as himself. So, it is his mind behind this movie.
Frankly speaking, there is no story at all. Several spoofs and troll videos stitched together to pass it off as a movie.
What is in the movie? What we regularly get to see in TV discussions and what we spoof videos we receive on WhatsApp are also presented here.
The jokes about Lokesh's (here his name is Akash) bad oratory skills and his poor grasping of Telugu language. RGV and his director even have crossed the limit of decency and took potshots at his personal life and also tried to portray his wife in a bad light.
Though the sequences belonging to Babugaru and Dayaneni Rama (aka Uma) look interesting in the first place, it becomes dreary watch as the proceedings go on.
Especially, the spoofs on Pawan Kalyan have no proper place in the story, and characters of Kathi Mahesh and Swapna looked more like spoof characters.
Throughout the film, Brahmanandam appears in all major episodes and gives strange expressions. Perhaps, this role is a representation of the makers, clueless about their own story.
The names of current politicians are changed in the film but we can easily spot who they are: Babu garu (Nara Chandrababu Naidu), Akash (Lokesh), Ramani (Brahmini), Jagannadha Reddy (YS Jagan Mohan Reddy), Dayaneni Rama (Devineni Uma), Ganga, Pranya Kalyan (Pawan Kalyan), Pooja (Roja), Gangaveeti Bhavani (Vangaveeti Radha), PP John (KA Paul).
What could have been a humorous satire turns into a boring drama due to lethargic direction, and bad writing! These days, internet trolls are creating better memes and videos than this Siddharth Thatholu and RGV. Increasingly, RGV is making films with a non-serious approach.
Bottom-line: Terrible Spoof
Click Here for Latest Direct-to-OTT Releases (List Updates Daily)