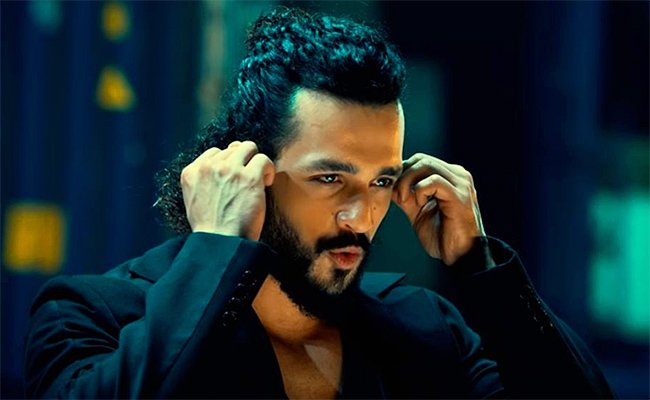 Movie: Agent
Rating: 2/5
Banner: AK Entertainments, Surrender2Cinema
Cast: Akhil Akkineni, Sakshi Vaidya, Mammotty, Dino Morea, Sampath Raj, Urvashi Rautela and others
Story: Vakkantham Vamsi
Music: Hiphop Tamizha
DOP: Rasool Ellore
Editor: Naveen Nooli
Action: Vijay Master, Stun Siva
Producer: Rambrahmam Sunkara
Directed by: Surender Reddy
Release Date: April 28, 2023
"Agent" has created a lot of hype as it is one of the most expensive action thrillers in Tollywood. Akhil too underwent a physical transformation and worked on this film for nearly two years.
Let's find out whether director Surender Reddy and Akhil's confidence in this subject paid off.
Story:
Ricky (Akhil) has aspired to be a RAW agent since childhood. He tries and fails numerous times to join RAW. He worships RAW Chief Mahadev, also known as Devil (Mammootty).
Mahadev believes Ricky would be an appropriate agent to finish off God (Dino Morea), who has been running a syndicate to take control of all businesses in India. Devil is a rogue former agent.
Will Mahadev's plans come to fruition?
Artistes' Performances:
Akhil Akkineni not only underwent a complete physical transformation for the role of a spy, but he also played it with great ease. He gives everything as a 'wild' agent. His dedication to this film is evident, despite the fact that his character is poorly written.
Sakshi Vaidya, a newcomer, has good looks, but she only appears in two songs and two scenes. That's all.
Mammootty, a legendary Malayalam superstar, is fantastic as a RAW agent. He adds gravitas to the otherwise dull proceedings.
Bollywood star Dino Morea is well-cast as the antagonist God, but the role lacks any strength.
Technical Excellence:
The film is billed as the most expensive film for a mid-level hero, with high production values and plenty of action stunts. A lot of money appears to have been spent on action thrills. Rasool's cinematography is adequate.
Hiphop Thamizha's music, on the other hand, doesn't add much to the film. It's easily forgotten.
The writing is inadequate. Another flaw is the editing. Visual effects look cheap despite spending a lot of money.
Highlights:
Akhil Akkineni's efforts
Mamootty
Pre-interval episode
Drawback:
Clumsy second half
Laughable climax
Formulaic writing
Lousy Songs
Analysis
"Agent" is a spy thriller that follows the standard Hollywood action thriller template. There is no story per se, though Vakkantham Vamsi is credited with writing one. This film appears to have been hashed, taking scenes and elements from a slew of Hollywood spy thrillers. This is precisely the issue with "Agent" - a lack of a coherent story to tell.
Dino Morea, a Bollywood actor, plays a villain in the film. The real villain in this film, however, is writer Vakkantham Vamsi, with director Surender Reddy serving as a sidekick. Both have blown it spectacularly.
The film begins on a high note with RAW operations, and Mammootty's stylish and intriguing acting keeps us glued to it for a while in the initial setup despite some yawn-inducing sequences involving Akhil and the heroine Sakshi Vaidya, as well as other scenes in the first half.
To be fair, the first half of the film is a typical masala Telugu film. The second half, on the other hand, is completely clumsy. Not only is it ridiculous, but it also gives you a headache by the end.
Hero Akhil has worked hard and appears to have blindly followed whatever the director demanded. However, his efforts have been completely in vain, as the director and writer have failed to produce interesting proceedings. The only scene in the film that piques one's interest is the one between Akhil and Sampath Raj before the interval.
In the later sections, the female lead Sakshi is nowhere to be found. She appears only in a "Govinda Govinda" song. Is the song a metaphor for the film's direction (Govinda Govinda)?
Guns blaze, bullets fly through the air, Akhil bares his sculpted body, a lot of money is spent on visual effects... but, nothing enhances the film's impact.
"Agent" is another example that "action" elements do not add much value without a solid script.
All in all, "Agent," in an attempt to present it as a wild and wacky spy thriller, turns out to be messy. The departments of writing, direction, songs, and editing have competed with each other in dishing out boring output.
Bottom line: Govinda Govinda Ji