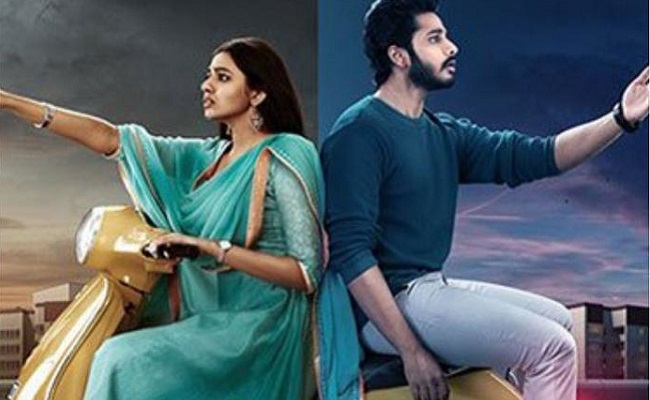 Movie: Adbhutham
Banner: Mahateja and S Originals
Cast: Teja Sajja, Shivani Rajasekhar, Satya, Tulasi, and others
Music: Radhan
Editor: Garry BH
Cinematography: Vidyasagar
Producers: Chandrasekhar Mogulla
Screenplay, dialogues: Lakshmi Bhupala
Directed by: Mallik Ram
Release Date: Nov 19, 2021
After releasing Nithiin's "Maestro", Disney+Hotstar premiered another Telugu film on its platform. Teja Sajja and Shivani Rajasekhar starrer "Adbutham" premiered today on Disney+Hotstar.
Let's find out its merits and demerits.
Story:
Surya (Teja Sajja), who works in a channel, fails in life on all fronts. Suicide is the option he thinks. Vennela (Shivani), who fails GRE, also thinks of committing suicide as her father is fixing marriage without her interest. Around the same time, she receives a message from her number, which happens to be Surya's number as well. How can two people get the same mobile number? They find out that they are years apart in time. How did they connect?
Analysis
"Adbutham" is the latest Telugu film in the genre of time travel. A web series named "Kudi Yedamaithe" (Aha) and Hari Prasad Jakka's recent movie "Play Back" have explored the same themes – two persons who are in two different timelines get connected. Twenty years ago, the Korean romantic drama 'Il Mare' popularized the concept. Many films followed in a similar style in Korea, Japan, and Hollywood.
"Adbutham" begins neatly establishing the characters of Teja Sajja and Shivani Rajasekhar. But the director takes plenty of time to reveal the twist that they are in two different timelines. Writers Prashanth Varma and Lakshmi Bhupal have tried to present this quirky story palpable to the Telugu audience by incorporating comedy sequences and romance. But the slapdash romance has spoiled the mood while Satya's comedy provides some entertainment.
"Adbutham" has many twists and turns. Some of the twists are interesting, but others look forced and unnecessary. The biggest problem is the lack of engaging romantic thread on the lead pair. The film needed a more gripping narrative.
As the lead actor, Teja Sajja has done justice to the role. He fits in the young chap's role well. Shivani is okay. Satya provides laughs. The cinematography is decent. None of the songs make an impact.
All in all, "Adbhutham" despite having some thrilling moments and a fairly decent concept, is far from engaging. The prolonged narration spoils the good beginning.
Bottom-line: Not Gripping
Click Here for Latest Direct-to-OTT Releases (List Updates Daily)