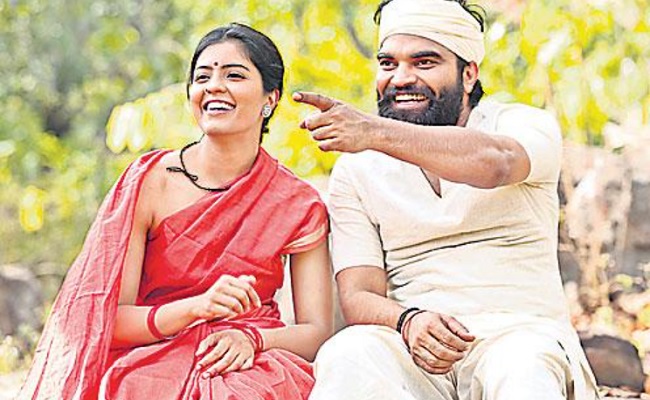 Movie: 30 Rojullo Preminchadam
Rating: 1.5/5
Banner: SV Productions
Cast: Pradeep Machiraju, Amritha Aiyer, Harsha, Brahmam, Posani, Hema, Hyper Adhi, and others
Music: Anup Rubens
Cinematography: Shivendra Dasaradhi
Editor: Karthik Srinivas
Producer: S V Babu
Written and Direction: Munna
Release Date: Jan 29, 2021
"30 Rojullo Preminchadam", Pradeep Machiraju's debut film as the main hero, has been creating waves on social media thanks to its viral song "Neeli Neeli Aakasam". The makers have claimed that the film is as good as the song.
Let's check to know the truth in their claims.
Story:
In 1947, Abbayi Gaaru (Pradeep Machiraju) and Ammayi Gaaru (Amritha Aiyer) want to get married but Abbayi gets killed in fist fight, and Ammayi commits suicide. They are born again as Arjun and Akshara.
Both get admission to the same Engineering college in Vizag. For some strange reason, they despise each other from the first sight itself. But the fate brings them to the same location where Abbai Garu and Ammayi Garu died.
Here's the twist, they find themselves in each other's bodies. Arjun enters into Akshara's body, Akshara in Arjun. What happens next is the rest of the drama?
Artistes' Performances:
Pradeep Machiraju in his maiden attempt as a hero has tried hard to score points but he looked clueless at many places. Pradeep suited well in the role of Abbayi Garu.
However, he has repeated the same antics and expressions that he does in his TV shows.
Amrutha Aiyer looks okay initially, but when she starts trying to act as a man in a woman's body, her acting brings irritation.
Comedians Bhadram and Harsha are wasted. Hema as a mother indulges in over-the-top acting.
Technical Excellence:
One element that brought a buzz to the film is the viral song – Neeli Neeli Aakasam. Obviously, Anup Rubens music is a plus point.
Though all songs are not catchy, the viral song and another track are an asset to this otherwise mediocre movie.
Besides the music, Shivendra Dasaradhi's cinematography is another attraction. Dialogues, editing, and production design are substandard.
Highlights:
Neeli Neeli Aakasam song
Drawback:
Silly concept
College episodes
Wacky jokes
Amateur direction
Analysis
The Telugu film industry has witnessed scores of love stories with a reincarnation theme. It has become clichéd now. To add something novel to this clichéd theme, debutant writer and director Munna has borrowed Hollywood's favorite trope: Body-switch.
"30 Rojullo Preminchadam Ela" begins with a question - What is love? A disciple asks this question to his guru. The guru narrates a doomed love story that took place in that forest in 1947. We are told that the couple is reincarnated and are college students in 2020. The answer will be found in the story of this couple. How? The director doesn't know the answer either.
All he does is throwing some outdated jokes in a college compound. Jokes about getting low marks in subjects, singing songs, teasing girls, etc, are the idea of entertainment in this film. The long and boring college episode at the interval bang tests the patience.
The second half entirely focuses on the silly comedy involving a boy in a girl's body touching girls, smoking cigarettes and drinking alcohol, and the girl in a boy's body wearing short dresses. Nearly an hour's runtime focuses on these episodes.
The climax portions are better than the preceding two hours but by then we lose patience totally.
"30 Rojullo Preminchadam Ela" is loaded with immature ideas and amateur handling.
Bottom-line: Can't even bear for 30 minutes
Click Here for Latest Direct-to-OTT Releases (List Updates Daily)