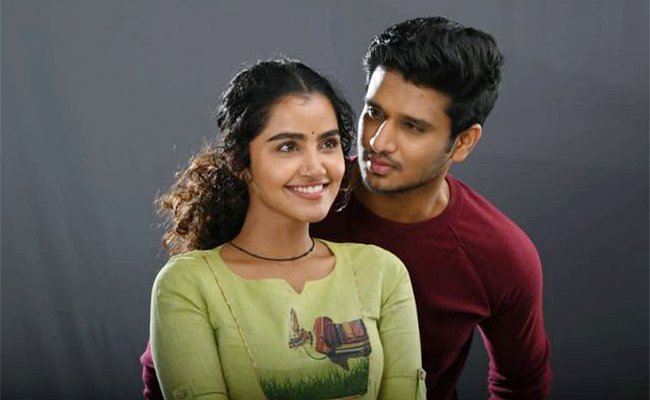 Movie: 18 Pages
Rating: 2.5/5
Banner: GA2 Pictures, Sukumar Writings
Cast: Nikhil Siddhartha, Anupama Parameswaran, Ajay, Brahmaji, and others
Story: Sukumar
Dialogues: Srikanth Vissa
Music: Gopi Sundar
Director of Photography: A Vasanth
Editor: Naveen Nooli
Art: Ramana Vanka
Presenter: Allu Aravind
Producer: Bunny Vas
Screenplay and Direction: Palanti Surya Pratap
Release Date: Dec 23, 2022
The names of Allu Aravind, Sukumar, and Bunny Vaas, and the hit pair Nikhil and Anupama are enough to raise interest about "18 Pages". In addition, two songs have become popular. So, the film has generated positive pre-release buzz.
Let us see if the film lives up to expectations.
Story:
Siddhu (Nikhil Siddhartha) works as an app developer for a software company. A 2019 diary written by a young woman named Nandini is discovered by him (Anupama Parameswaran).
Siddhu learns from her diary entries that she values face-to-face interaction with others over communication via digital means. Her trip to Hyderabad from her Andhra village was motivated by the need to deliver a cover to Venkatrao, a mutual friend of her grandfather's.
Siddhu develops feelings for her after reading the journal, and he travels to her hometown to finally meet her. Siddhu finds out from Nandini's relatives that she was killed in a car accident a few months ago. Astonished by the news, he heads back to Hyderabad.
Has she really passed away?
Artistes' Performances:
Nikhil Siddharth gives a convincing performance as a young man who falls for a girl he has never seen or met. But he doesn't have a consistent appearance; rather, he seems to be out of shape in a few key spots.
Anupama Parameswaran shines in the role of the heroine.
Sarayu, in her role as Nikhil's friend, delivers some humorous lines. Short cameos from Posani and Ajay are fine.
Technical Excellence:
The music by Gopi Sundar is the main attraction. Whether it's the heartbreak song "Time Ivvu" or the melodious number "Nannaya Raasina" or "Nee Valle Pilla," all of the songs fit in perfectly with the movie's overall theme.
Srikanth Vissa has done a fair job with the dialogue. The story that Sukumar has written feels dated.
The film has decent cinematography, but its visual style is inconsistent. Sometimes it just seems so...old.
Highlights:
Pre-interval sequences
Two songs
Anupama Parameswaran
Drawback:
Lack of contemporary feel
Slow pace
Superficial emotions
Analysis
A girl and boy falling in love without ever meeting is an old concept. Ajith's "Prema Lekha" dealt with the same subject. So, how does a hero falling in love with a girl accidentally by reading her diary become a novel plot line? The bare bones of Sukumar's story are interesting, but they don't capture the current times.
The script has some serious problems. If Nikhil Siddharth's character fell in love with Anupama after reading her diary in one sitting (the whole thing is only 18 pages long, hence the title), we could see that happening. However, in the film, he is shown to get excited after every turn of the page, and to react wildly to every incident narrated in the story as if it were happening at that very moment. It's hard to imagine how a 2022 computer whiz like him would respond to events in 2019 dairy.
It's also shown that he reads a page or two a day for a couple of days and then starts doing things like turning off social media apps, etc. that Nandini did in 2019. This doesn't feel like a natural response on the part of the character, but rather like a screenwriter's shortcut.
Aside from this and other logical issues, "18 Pages" captures our attention from the start. The initial events, such as Nikhl's break-up with his girlfriend and his reactions to Anupama's diary, are interesting. The situations preceding the song "Nannayya Raasina" are also enjoyable. Another interesting episode in the film is the tension that the hero feels when he suspects she has married his neighbour.
However, aside from a few episodes, the sluggish narrative and unconvincing kidnap drama are detrimental to the flow. The second half is structured like a thriller, and when the true mystery is revealed, it is completely unconvincing. The reason given for the importance of a "cover" is ridiculous and illogical. The final moments appear to deviate from the main theme. Many implausible events occur.
Fortunately, the film concludes in a more convincing manner.
Overall, "18 Pages" succeeds only intermittently; the drama is underwhelming, and the love story fails to resonate. There are some good songs, and the first half is pretty good, but overall it just doesn't feel very modern.
Bottom line: Only Few Pages