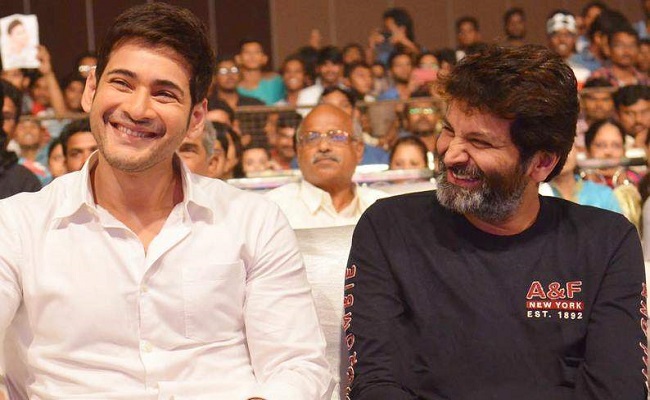 Lately, one rumor has been doing rounds in the Telugu film industry. The rumors suggest that Mahesh Babu and director Trivikram's film might not happen.
Mahesh Babu will take up Rajamouli's next film immediately instead of collaborating with Trivikram is the content of this speculation.
But will Mahesh Babu take such a drastic step?
The film in the combination of Mahesh Babu and Trivikram has officially been announced. Pooja Hegde has also signed the project as the female lead.
Mahesh Babu wanted to commence the shoot of Trivikram's film immediately after wrapping Parasuram's "Sarkaru Vaari Paata". The producers are planning to begin the regular shoot from May 2022.
Then why did such a rumor come out?
It will be a foolish step for Mahesh Babu if he decides not to go with Trivikram's film at this juncture. Trivikram and Mahesh Babu had earlier teamed up for "Athadu" and "Khaleja".
Trivikram was not willing to team up with Mahesh Babu again, but it was the superstar who persuaded the director.
Plus, Mahesh Babu will be completely occupied with Rajamouli's film for nearly two years once he begins the shoot on that. Trivikram would not wait for him such long. Their friendship turns sour.
There are also rumors surrounding "Sarkaru Vaari Paata". Buzz is that Mahesh Babu asked director Parasuram to rewrite certain scenes.
More than 45 days of shooting reportedly is still pending. Considering all these factors, it would not be wise for Mahesh Babu to drop Trivikram's film.
If he goes with the earlier plan, Mahesh Babu can release "Sarkaru Vaari Paata" in 2022, and Trivikram's film in 2023. Rajamouli's film will be readied by 2024. So, he will not get a long gap between releases.
If Mahesh Babu cancels Trivikram's film, it will be an advantage for Allu Arjun, who is ready to work with the director again.