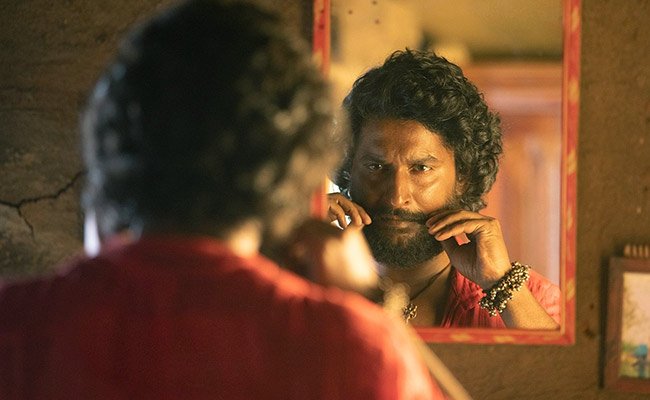 Nani's 'Dasara' released in multiple languages today. The openings are thumping especially in Telugu and Nani's performance is unanimoulsy hailed. Keerthy Suresh is also receiving words of high praise fo rher performance. Let us see what the National Media critics say about the film.
The Hindu mentioned- "First, to address the elephant in the room, Dasara is not a wannabe Pushpa or KGF. Rather, it tries to bring in the grittiness of Tamil films such as Jai Bhim, Asuran and Karnan, in its depiction of power equations".
Time of India said- "Dasara is not the film that leaves you with a smile at the end of it all, it also doesn't reinvent the wheel. Could it have been better? Sure. But Srikanth Odela and Nani make this slow burn work. So, credit where credit is due".
India Today rightly mentioned the pros and cons writing- "Nani is the soul of Dasara. From expressing his vulnerabilities to crying his heart out and emoting in silence, he has given his career-best performance. Keerthy, too, has a meaty role in the film. It is actually Suri who stole the show with his effortless acting.
Something that Srikanth Odela could have worked on is the characterisation of the villain, Shine Tom Chacko. It treads on a wafer-thin line and after a point, it does not create an impact".
Hindustan Times mentioned- "Nani's Dasara, like its recent counterparts like Rangasthalam (2018) and Narappa (2021), is a very familiar tale about the ugly side of caste politics. The familiarity also seeps into the fashion in which it narrates a tale of friendship and revenge....Unlike Pushpa or KGF, this isn't a story that rides on the hero's bravado".
Times Now wrote- "The film's writing might seem to be smeared by conventional writing choices, which will remind us of some previous movies, but the performances by every single character, technical finesse, the strong drama, a beautiful bond like friendship, slick action sequences in the second half make it a 'paisa vasool' experience as a whole".
DNA says- "The songs, which are essential in this genre, are not catchy at all. Everybody was humming Srivalli. Not many would be able to name three songs from Dasara".
The main point of all the reviews is that the film attempted to deliver something impactful, but ended up leaving the audience with a feeling of déjà vu. Nearly every national media critic watched the film with KGF and Pushpa as benchmarks.