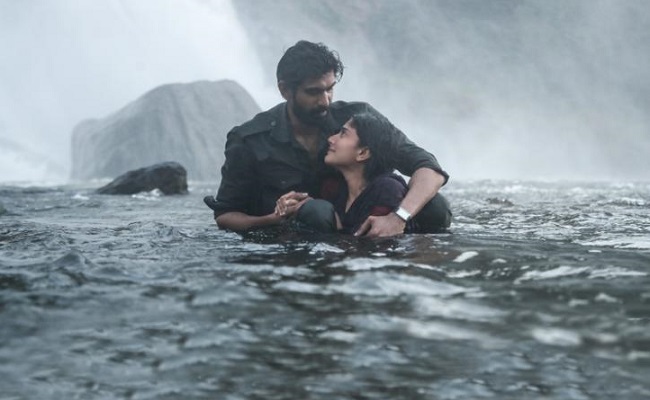 Virata Parvam is one of the crucial parts in Mahabharata that exhibits the thirteenth year of incognito exile that the Pandavas had to spend to avoid another twelve years in forest.
It's full of conspiracies, politics and philosophy. The film Virata Parvam directed by Venu Udugula and starring Rana and Sai Pallavi also has all the aforementioned aspects, besides narrating an epic love story.
The delay caused some damage and it needed great push ahead of the release. So, the makers have unleashed a last and powerful weapon to bring back the buzz.
They will be screening special premiere shows for the celebrities and public, much before its actual theatrical outing.
They indeed screened the movie for about 20 celebs including Nikhil, Krish Jagarlamudi, Swapna Dutt, Manchu Lakshmi etc.
The response is said to be completely positive, as everyone moved by the story, the narration, performances and the technicalities. Particularly, the end has made them quite emotional.
Hero Nikhil tweeted, "Just Watched #VirataParvam . it's an EPIC LOVE STORY… in Shock & Awe.. A Career best performance of @Sai_Pallavi92 & a Towering Performance by @RanaDaggubati make this movie a SPLENDID watch. Dir @venuudugulafilm & Prod @sudhakarcheruk5 . Hatsoff sir 4 backing this amazing film".
Producer Swapna Dutt's Instagram status reads: "Had the opportunity to watch this gem.. this film will stay with u! haunt u! @ranadaggubati u stand taller with this film and @saipallavi.senthamarai what r u. @venuudugulafilm u made a classic. And as audience let's pull up our sleeves and watch this film in theatres and let great cinema lonng live."
Going by their words, the love story is going to be the central point and both Rana and Sai Pallavi gave their career best performances.
We need to wait and see whether the normal audience too give the same verdict!