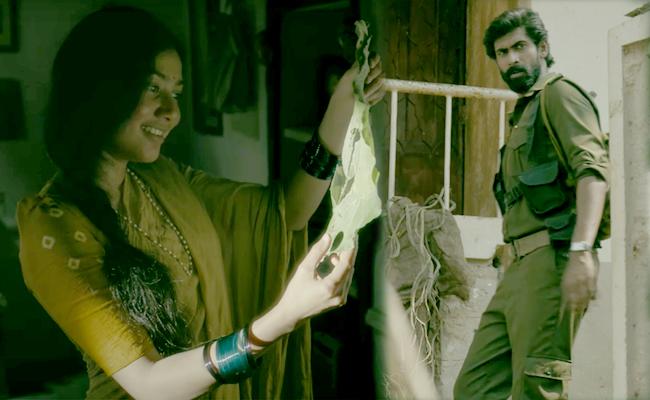 Inspired from true events of 1990s, Virata Parvam is one of the most awaited films hitting the big screens in summer.
Megastar Chiranjeevi has launched the film's teaser today.
While the first teaser released for Rana's birthday showcased the heroics of Rana, the new teaser narrates a captivating love story set in the backdrop of naxal movement.
The teaser begins with Rana as revolutionary writer and a comrade in war voicing some influential dialogues as he pens rousing poetry and we too instantly fall in love with it.
There is a girl who adores his poetry and like Meerabai who abandoned her parents and husband for the sake of Lord Sri Krishna, Sai Pallavi too leaves everything for Rana.
The influence of his poetry on her is so much so that she develops love for the warfare and communism. The sequence of making hammer and sickle with leaf plate depicts the same.
She is ready to die for him and indeed goes to jail in the journey to meet him. Her love is unwordly, platonic and exceptional.
Rana, on the other hand, is shown as comrade who dedicated his life to the welfare of deprived. Join the hands in his revolutionary path are Priyamani and Naveen Chandra.
Sai Pallavi comes up with an award-winning performance and Rana is equally good.
Cinematography of Dani Sanchez-Lopez and Divakar Mani duo is remarkable.
Every dialogue from the pen of director Venu Udugula emerged as bullets from fully loaded gun. He exceptionally incorporated his revolutionary thoughts in this beautiful love story.
Already there were massive expectations on Virata Parvam and the new teaser makes us wait eagerly for the film's theatrical release.
Produced jointly by Sudhakar Cherukuri and Suresh Babu, Virata Parvam will be releasing on April 30th.