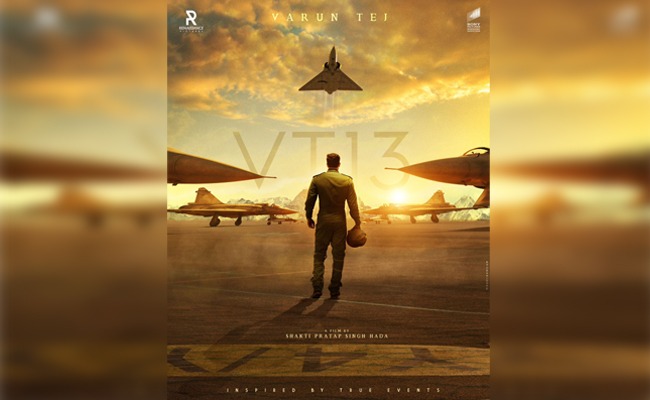 Varun Tej's 13th film was announced recently formally without announcing much details, except for giving hints about the film is set in the backdrop of aviation department.
Debutant Shakti Pratap Singh, an ad-film maker, cinematographer and VFX aficionado, will be wielding megaphone for this movie.
This bilingual movie that marks Bollywood debut of Varun Tej will be shot simultaneously in Telugu and Hindi.
Sony Pictures International Productions will be bankrolling the movie, in conjunction with Renaissance Pictures. The movie that is inspired by true events is a patriotic, edge-of-the-seat entertainer.
It's evident through this picture that, Varun Tej will be playing an Airforce Officer in the movie. Here he is seen gearing up for air fight.
Dressed in the USAF Sage Green with a helmet in his hand, Varun Tej walks towards an aircraft, though there are several fighter aircrafts parked there.
In the background we can see the Himalayas, which means the Fighter Pilot is at the border to fight the rivals.
The very intriguing poster has increased curiosity on the film. Needless to say, we are going to witness a never seen before experience on screen.
Varun Tej will be undergoing immense training for this incredible spectacle packed with action and will also evoke emotions like never before.
VT13 will showcase the resolute spirits of our heroes on the frontlines and the challenges they face as they fight one of the biggest, fiercest aerial attacks that India has ever seen.
This movie is going to be a perfect tribute to the Indian Air Force.
VT13 has been launched today in a grand manner. It will start rolling from November this year and will have a global release in 2023.