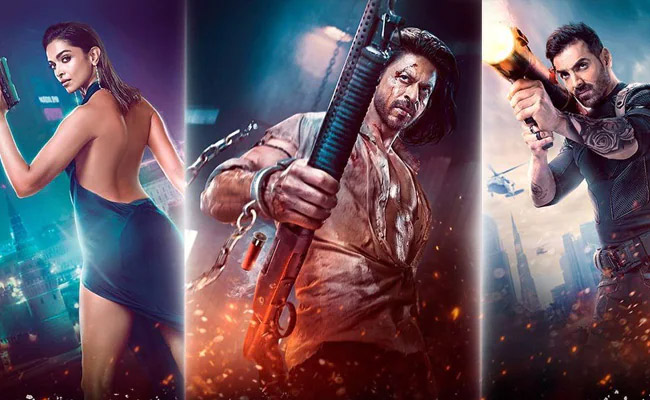 1. Pathaan: The highly anticipated film, featuring Shah Rukh Khan and Deepika Padukone as the lead actors and John Abraham as the main villain, created a huge buzz upon its release at the Indian box office.
The film's outstanding earnings, with a fast collection of an incredible Rs 780 Cr, shattered previous records and left audiences stunned. This feat has generated a great deal of excitement and anticipation for the film's future success.
The upcoming week will give a clear indication of the full extent of the film's financial triumph.
The film's success can be attributed to the powerful performances of its talented cast, combined with a well-crafted story and high production values.
2. Writer Padmabhushan: This Suhas starrer was released with paid premeire on the evening of Thursday giving a hype on par with that of any most talked about film.
It's made by Chai Bisket banner. The content in the film though not in tune with the present time, could make an impact with the climax.
The point addressed by the makers and the chosen narrative pattern received some critical acclaim but that didn't convert into collections anywhere in regional box office, though it is working well in the USA.
3. Michael: This much anticipated film made on the lines of KGF and released as a pan India film failed to pull the attention of the audience due to its weak hero and poor content.
Though the opoenings were reasonably better by the virtue of impactful trailer, the content in the film repelled the attention of the audience. The negative word of mouth publicity hit the last nail on the fate of this film.
4. Waltair Veerayya: The movie completed its fourth weekend at the theatres. The revenue generated over the weekend was impressive and the film made its list in the toppers of the box office charts.
Audiences in India and abroad have given the film the highest praise of the season.
The movie emerged as the Sankranthi champion and continued to draw full houses in many locations, though there is a little drop subsequently.
It made a whopping collection of Rs 230 Cr in box office earnings.
5. Butta Bomma: The movie, a remake of the Malayalam film "Kappela" produced by the Sitara banner, did not make a significant impact at the box office.
The lackluster adaptation and unimpressive story failed to draw audiences. The film's opening was disappointing and the negative buzz surrounding it damaged its prospects even further.
The film did not meet the expectations set for it, and it ultimately failed to generate the desired impact.
Despite its talented cast and high production values, the film was unable to connect with audiences and make an impact on the box office.