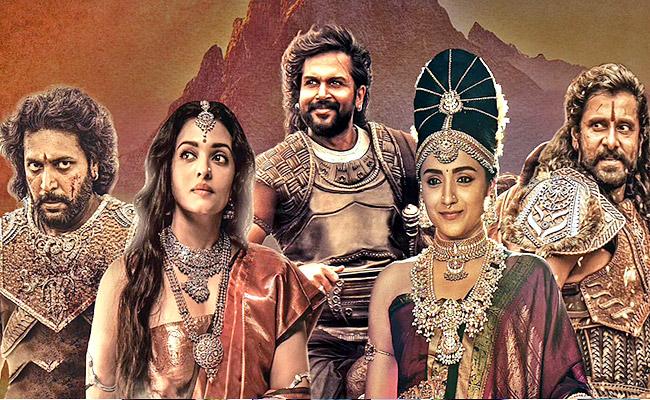 1. PS1: The film had a decent opening in Telugu states on the first day amidst the hype.
Due to Dussehra holidays, it continued the same trend despite bad reviews and negative word of mouth.
The film proved to be successful with its Tamil version while the Telugu version has to struggle hard to break even where the Hindi version is a disaster.
On a whole it ended up as 'more' Tamil, 'less' South Indian and 'no' North Indian kind of film.
All said and done, this proves to be the biggest success for Mani Ratnam, Vikram and Karthi after a long time.
2. Krishna Vrinda Vihari: The film has Naga Shourya in the main lead and Shirley Setia in the female lead.
After a good start, Krishna Vrinda Vihari lost its fizz. But with no competition, it is running in the theaters.
The film got average to below average talk on the day one but still it managed to make its run for the sake of its star cast and the family appealing title.
The full run of the film has almost come to an end as the big films are arriving this week.
3. Vikram Vedha: This is the Hindi remake of the Tamil hit with the same title. Hrithik Roshan and Saif Ali Khan's treat made some mark in cities like Hyderabad. But on the whole it is on the lower side.
The performance of this film at the box office is pretty weak and it goes without saying that this is almost the end of its run.
The big films are occupying the theatres in a couple of days leaving no room for this. There has been no hype surrounding this film since the beginning.
4. Nene Vasthunna: Dhanush's Nene Vasthunna is one of the lease publicized films in recent times.
After the release, it received bad reviews in Telugu. But due to Dhanush's name, it made a noticeable collection as the audience hold some expectation that his films carry some sense, essence and convincing entertainment.
But there is heavy drop in the collections day by day and it ends its run in a couple of days with the arrival of biggies.
5. Brahmastra: From mixed mouth publicity, the film surpassed all hurdles and emerged as a hit. This is the highest grossing Bollywood film so far this year and in the post pandemic time in particular.
Starring Ranbir Kapoor, Alia Bhatt, Nagarjuna, Amitabh and SRK the film is doing well in many centers and it appealed to the young audience better than the rest of the age groups.
The patronize for this film at the theatres has almost come to an end.