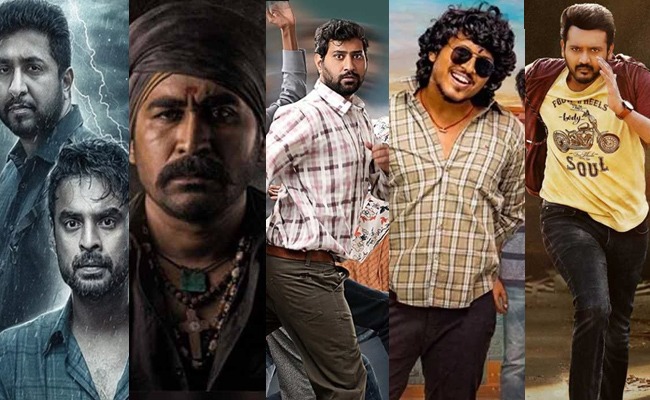 1. 2018: In spite of limited media attention, the Malayalam dubbed version of the film was released two weeks ago and managed to perform well at the box office. Although there were initial doubts, it surpassed expectations.
The original Malayalam version of the film had achieved remarkable success at the box office a few months ago. However, its Telugu release didn't replicate the same level of triumph but still managed to make a mark and fare decently at the box office.
2. Bichagadu 2: Despite limited publicity, relying mainly on wall posters and online ticket bookings, the film continues to run successfully into the second weekend. It has made a significant impact at the box office, garnering impressive collections.
While the content may not have received as much acclaim as its predecessor, the strong opening and sustained collections are a testament to the franchise's popularity.
The film's ability to captivate audiences and draw them to theaters demonstrates its appeal and ability to resonate with fans, ensuring a successful box office run.
3. Pareshan: The film faced severe criticism from the very first day of its release.
Despite Rana Daggubati's promotion promising record-breaking fun and entertainment, it turned out to be a disappointing and vulgar affair with weak storytelling.
The audience outrightly rejected the film, evident from the morning show of its opening day.
The film's performance on weekdays remains uncertain and questionable, casting doubts on its potential for a sustained run.
4. Mem Famous: Though there are genre limitations, the film had a respectable opening, collecting nearly Rs 3 crore in its first week.
It centered on villagers creating a YouTube channel for fame, surprising audiences by not relying solely on comedy.
Although collections declined in subsequent week, the film managed to sustain a presence at the box office, showcasing its ability to maintain audience interest to some extent.
5. Nenu Student Sir: The film, starring Bellamkonda Ganesh, unfortunately, faced a miserable fate at the box office. It failed to meet the expectations set for it.
The poor narration and weak storyline contributed to its downfall, resulting in the audience rejecting it right from its release day.
Despite hopes for a successful outcome, the film could not resonate with viewers and fell short of the mark.