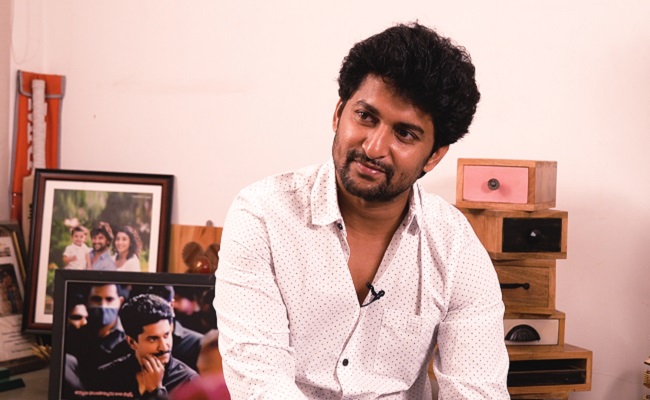 Nani has come out of his comfort zone to play the challenging role of Shyam in Shyam Singha Roy which mostly got optimistic feedback.
Nani in his exclusive interview with us informs he always wants to explore new things as an actor. "After Jersey, I got so much love and response for Shyam Singha Roy.
Actors need to accept subjects which challenge them. If there's no risk, there's no excitement or feel of achievement. That risk paid off for Shyam Singha Roy."
He says when script and characterizations are strong it will be easy for actors, art director and costume designer and there's no need to work really hard.
Nani affirms he okayed script of the movie in single sitting. "There are only few scripts which amaze us instantly like Jersey and Shyam Singha Roy. I okayed the scripts of Ante Sundaraniki and Dasara in first narration. You'll see a new actor in me. Thankfully, I'm getting such scripts."
Nani says people don't expect logics in Rajamouli's films. "You expect larger than life kind of films and don't really expect logics in Rajamouli's films. In my films, you expect emotional highs and also logics which is an additional burden for me."
Talking about death sequence, Nani says it's one of the major highlights. "Own family killing Shyam whom they treated like a son is a crucial point. As an actor, I'm getting more appreciation for the death sequence."
Nani further says Shyam Singha Roy is the most poetic film in last 5 years. "It's a classic love story happens during Navratri. I felt it very poetic."
He lauded director Rahul Sankrityan for his maturity in dealing the subject. "Rahul Sankrityan will become one of the biggest directors."
Nani informs producer Venkat Boyanapalli is very much satisfied with the response for the film. "Venkat was waiting to work with me. He's a big fan of Jersey. He's very much pleased with the feedback it received."
The actor explains songs in the film should not dominate the content, but they should elevate the movie to another level.