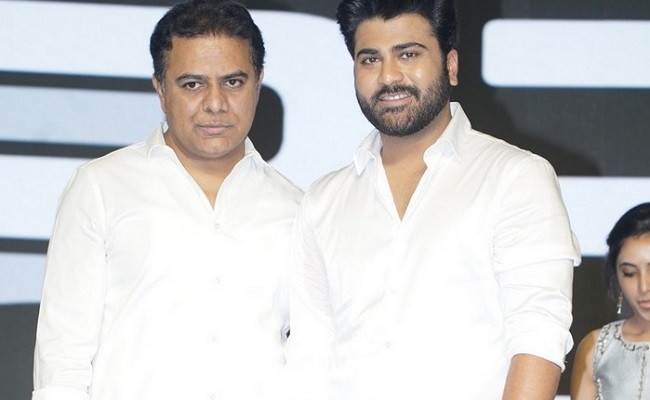 Sharwanand's Sreekaram is gearing up for release on 11th of this month as Maha Shivaratri Special. The promotions of the movie are going on at a full swing.
After a grand gala event in Khammam with Megastar Chiranjeevi, they are back in Hyderabad with another event on Tuesday night with Telangana IT Minister, K Taraka Ramarao.
Speaking at the event, Hero Sharwanand said, "Thanks for KTR garu for coming to bless our team despite his busy schedule. Maybe our film story wanted him to come. The film says Youth can do anything if they wish for.
KTR is a youth icon and if speaks it will reach more. KCR has done so much for agriculture and KTR is his representation. This movie has all ingredients. When I heard this story, I thought it is my responsibility to do this film. Watching this film is responsibility for all us.
KTR said he will be with me for every good work. He just came here after just one message. Sai Madhav Burra garu breathed life into the script with excellent dialogues. Mickey gave excellent songs. I had good time working with all my costars.
I am working with Rao Ramesh garu after 12 years. I thank everyone for coming here. I thank Yuvaraaj for his excellent visuals. You will feel you are in your village when you watch the film.
I thank the producers for their support as they stood like a rock taking care of everything right from the start. I thank them for giving me a good film. Doing a film like Sreekaram is a rare opportunity. Jai Jawan Jai Kisaan".
The Chief Guest for the event, Minister KTR said, "Brother Sharwanand thanking me for inviting this event because it gives so much satisfaction because it is a film on agriculture. I watched a nine minutes footage of the film and I was blown off.
Vyavasayam has Vyayam and Sayam. Vyayam has increased with no Sayam from the government. I appreciate the producer for taking a risk with such subject. I think Kishor executed the film with heart. That is evident from the footage I saw.
I am a big fan of Rao Ramesh garu. I always enjoyed your work. Sharwanand always put his heart in his films. I am a huge movie buff and honestly speak about the film. I am sure Sharwanand has outdone himself in the film.
My father is a farmer at heart. I am always fascinated by his passion for agriculture. He has proved what happens when a farmer becomes the Chief Minister. 24 hours free power, Rythu Bandu, and Free Five Lakh Insurance for Farmers are some of the schemes he brought for the farmers but there is more to be done.
During the Lockdown, everything got stalled but not agriculture because they have to feed 1.3 Billion people. This generation should develop liking for agriculture. This is a really good film. I will try for Tax Exemption.
I urge all of you to watch the film in theaters and encourage the team. I appreciate Kishor for coming to this level with no background. Thank you all.
Do Shivaratri Jagaram by watching films in theaters. Your support will help the industry survive. Jai Jawan Jai Kisan".