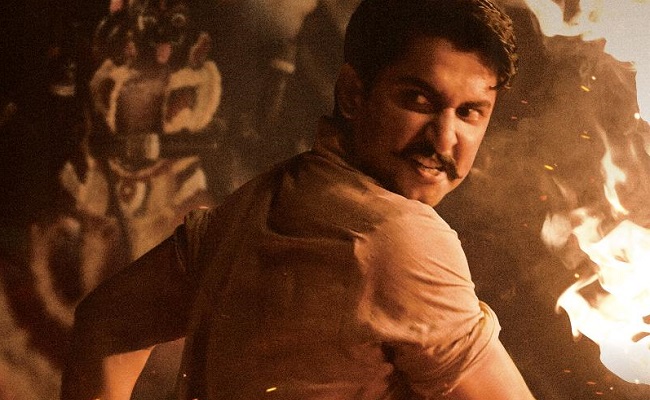 Nani's Shyam Singha Roy is one of the most awaited films, given the film is carrying exceptional buzz and all the promotional content was impressive to the core.
Now, the film's teaser that is out now takes us to another world with its unique story, interesting narration, brilliant performances and superlative technicalities.
The story is set to in two different eras. While the period story tells us about the religious practice of Devdasi system, the current story shows the love story of an adorable couple.
When there is no hope, a mighty person comes to rescue the powerless. Shyam Singha Roy is the one Bengali youngster who's fighting against Devdasi system and takes on biggies in the society.
Other than using his pen power, Shyam Singha Roy also shows his other side as a revolutionary youngster.
Interesting part is Nani mouths a dialogue in Bengali language and he looks like a Bengali in the role.
There is another sequence where Nani is seen smoking cigarette and showing his mannerism of rotating head with intensity in his face in top angle and that justifies 'Natural Star' tag.
Sai Pallavi who is one of the great dancers is outstanding in the challenging role and it is treat to watch her dance.
The teaser also shows lip-lock sequence between Nani and Krithi Shetty and they look loveable together.
Director Rahul Sankrityan opted for a powerful story and his taking is first-class, while cinematography by Sanu John Varghese and background score by Mickey J Meyer make the narrative look further intriguing.
Produced by Venkat Boyanapalli, production values of Niharika Entertainment look very lavish.
Evidently, the makers have a potential winner on hands and the teaser further increases inquisitiveness on the film.
It indeed gives an impression that we are going to witness a magnum opus in big screens.
Shyam Singha Roy will arrive in theatres in all south languages on December 24th.