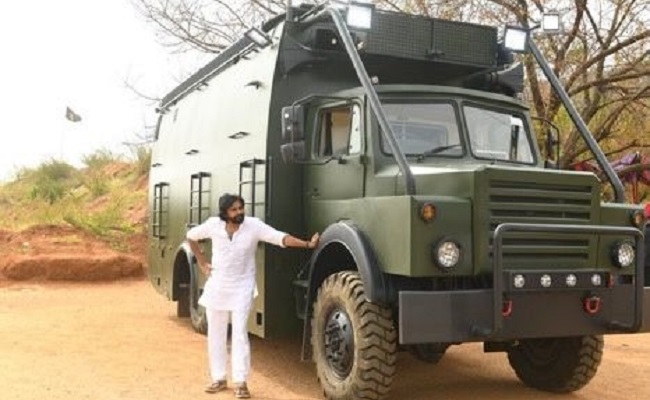 Pawan Kalyan has shown his new vehicle to the public. He is going to use that for his election campaign shortly any time.
The paraphernalia of Army Green color painted on the vehicle and hiring retired Army soldiers as the security personnel brought a new color.
Above all, there is a reason behind giving the name "Varahi" to the vehicle as per sources.
Varahi is the name of the goddess who weakens the abilities and strengths of enemies if worshipped, as per the faith.
Varahi Mantram is typically chanted especially to make the enemies weak be it during election or court cases.
When asked about this, a close source of Pawan Kalyan also said- "The real secret is something else. Giving the name of a Hindu goddess' name to the vehicle is to please the BJP".
It is said that this name was suggested by Trivikram Srinivas, the film director.
Sharing this, some insiders are also recalling how Trivikram performed Upanayanam to Pawan Kalyan a few years ago and adorned him with a sacred thread.