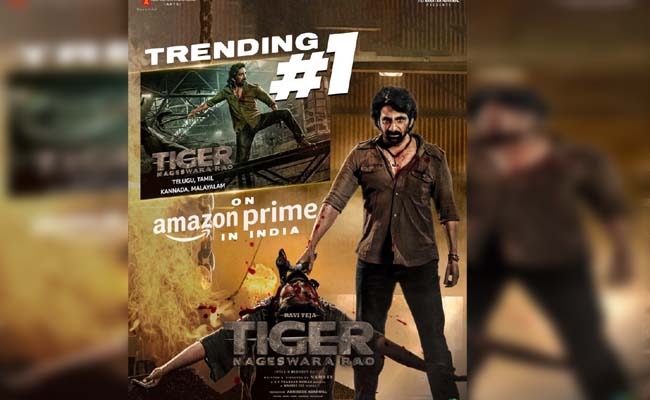 Without much noise, Ravi Teja's last outing Tiger Nageswara Rao premiered yesterday on Prime Video and the movie is trending at No 1 position on the streaming platform.
The film which is based on the life of India's biggest thief Nageswara Rao from Stuartpuram had a Pan India release during the Dussehra festival.
The movie has now gotten a terrific response on the OTT platform not just in Telugu, but in other languages too. Tiger Nageswara Rao got huge watch hours within a day.
Despite much promotion for the OTT release, Tiger Nageswara Rao showed his power on Amazon Prime.
The OTT viewers are accolading Ravi Teja for his wonderful makeover for the movie and his impeccable performance.
Director Vamsee showed different layers in Tiger Nageswara Rao brilliantly, whereas Abhishek Agarwal mounted it lavishly with high standards in production and technical side.
While the visuals captured by Madhi are top-notch, GV Prakash Kumar gave elevations, making the narrative much more engaging.
Interestingly, there is a complete positive talk for the movie in social media, after its OTT release, and it is expected to get record views on Amazon, in the coming days.