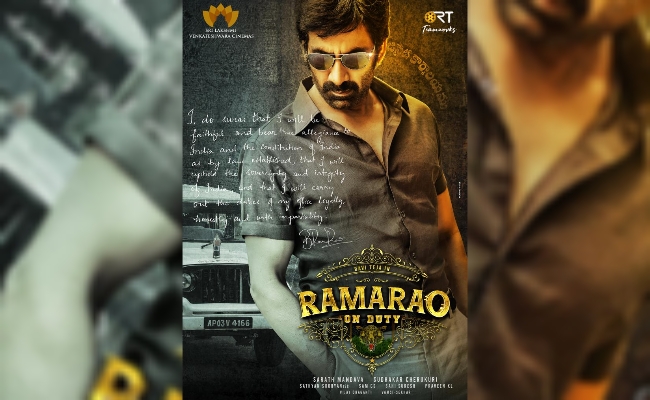 Ravi Teja is working with a debut director Sarth Mandava and there's a valid reason behind it.
The actor was awestruck by the content and he couldn't say no. Moreover, he never had qualms in working with first timers.
After so much anticipation, the team has unveiled title and also first look poster of the film being produced by Sudhakar Cherukuri on SLV Cinemas LLP and RT Teamworks.
The film is titled mass-appealingly as Ramarao On Duty and the title design is extremely impressive.
Wearing formal, yet trendy outfit, Ravi Teja looks class in the first look poster sporting shades. The beard adds coolness to his look.
It seems, Ravi Teja lost some weight, as he looks fit and dashing here.
His body language expresses that do not mess with this newly appointed government officer for your own safety.
In the background, we can see a government vehicle which is allotted to Ravi Teja who has taken charge as an officer at an executive magistrate office.
Although the swearing in letter of Ravi Teja wasn't clearly visible in the previous poster, it is perceptible in the first look poster with his signature.
All in all, the title as well as the first look poster impresses big time.
It's a first of its kind character for Ravi Teja who will be seen in a two shaded role and the other look will be revealed later.
The film's shooting is presently progressing in Hyderabad where the team is canning scenes on Ravi Teja and Divyansha Kaushik.
Tipped to be a unique thriller laced with all the commercial elements, the film's story is based on true incidents.