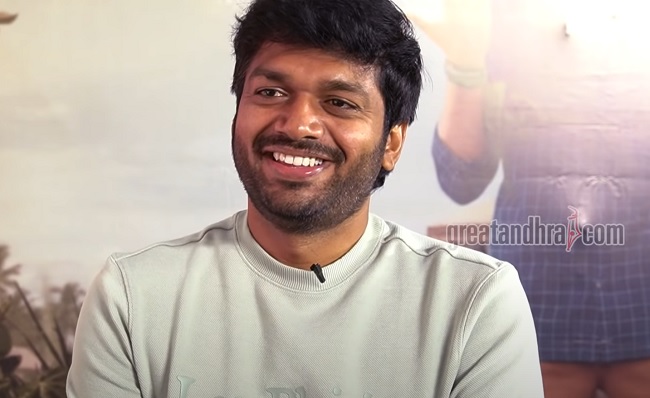 Talented young director Anil Ravipudi hogged the limelight all of sudden on Sunday after he revealed his star-studded lineup. He revealed doing films with Balayya, Mahesh Babu, and Ravi Teja after F3.
Greatandhra.com caught up with him for an exclusive interview.
You were in news all of sudden.
It happened unexpectedly. I thought of talking about Corona and ended up with the topic of future projects. They became a highlight and are everywhere now. These projects are already in news. I already narrated the story to Mahesh and he liked it. Balayya's story is ready and will have to narrate it to him.
Keeping them aside, what is happening with F3?
There is another fifty days shoot left to be canned. The film will be ready in fifty days whenever the shootings start.
Is it only the title or will F3 will be a step higher than F2?
It will be three steps more than F2. The script came out really well
F2 finished on a budget of fewer than forty crores and resulted in huge profits. Did the budget increase this time?
Not much. Maybe 10-15 Crore or even less. We are trying to control as much as possible. At the same time, the market is definitely higher than the F2.
Are you getting into Balayya's style or will he come to your style?
Definitely, my movie will be in Balayya's style. I am looking forward to doing one of those action plus entertainment movies after Pataas again. This is going to be that project.
Why is the delay to narrate the story?
I am thinking of a good title. I will narrate the story the very next day after getting the title.
Is Balayya's Film Going to be the next project after F3?
Likely. I also narrated a story to Mahesh Babu and he liked it. But he has to complete two films before that.
Who will produce the Mahesh Babu film - Dil Raju or Anil Sunkara?
It will be Mahesh Babu's call. It will be according to his commitments.
Producer of Balayya film?
I did not think of it yet. I have to make a film for Sahu Garapati. Maybe he will be producing the film.
How are you spending time during this Corona free time?
I am trying to make the habit of reading books. Previously I used to fell asleep after reading two pages. But it is not happening now.
Which books did you read?
I read the books of Mullapudi. I am reading a book called Karma written by Sadguru. I liked it very much. Please suggest some good books.
How about the injury of Gaali Sampath?
That is not an injury. It is a small disappointment. I wanted to help my friend but could not. Life is as such, there are all kinds of experiences.
How is your son? He was born during Sarileru Neekevvaru time I guess.
Yes, he is a year and a half old. Recently, he burned his hand with hot milk. He is fine now.
Going to the office?
Yes, I am going alone. Sitting alone and coming back after writing.
OK Thank you, sir!
Thank you... You also please be careful during Corona.
Click Here for Latest Direct-to-OTT Releases (List Updates Daily)