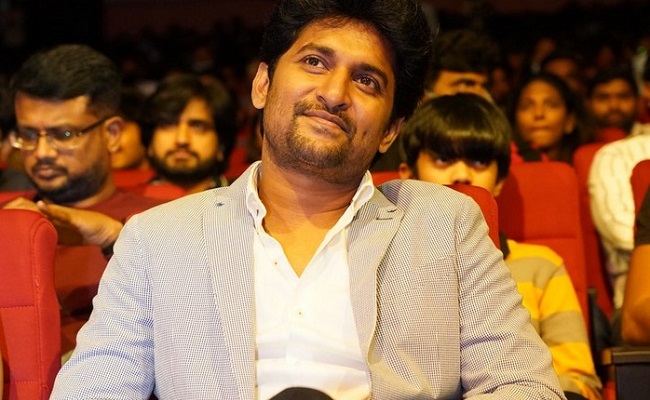 At a time when cinema theatre managements in Andhra Pradesh are grumbling over a series of raids by the state government officials in the last few days, the comments made by Tollywood hero Nani on the cinema ticket prices added fuel to the fire in the industry.
At a press conference in Hyderabad a day before the release of his film Shyam Singarai, Nani found fault with the Y S Jagan Mohan Reddy government for reducing the cinema ticket prices abnormally.
He said the AP government had insulted the audiences by fixing low ticket prices.
"It is not correct to sell the cinema tickets at such a low price, when a kirana shop owner is selling his products at higher rates," he said.
Nani recalled an incident of his childhood.
"In my school days, when we were going on a picnic, the school used to collect Rs 100 from each student. If the school management collected Rs 10 from me saying that I could not afford, it amounted to insulting me," he said, adding that people would watch movies in theatres even if the ticket prices are a little higher.
Nani's comments pushed the Tollywood on the back foot. Senior producer Natti Kumar lashed out at the actor for talking on ticket rates.
"What does Nani know about ticket pricing? It is better people should think twice before making such comments," he said.
Natti Kumar requested that nobody should make any comments against the Andhra Pradesh government at a time when the Telugu film industry was negotiating with the government on the issue.
Meanwhile, state municipal administration minister Botsa Satyanarayana expressed anger over Nani's comments.
"The ticket prices are reduced only to make cinema affordable to the common man. If there are any difficulties, the theatre managements would approach the district authorities. The government would look into their issues," he said.
Stating that there is a maximum retail price for everything in the market, Botsa said the cinema industry is no exception.
"How can you say that reducing ticket prices amounts to insulting audiences? We don't keep silent if the theatres want to collect whatever prices they can from the audiences," he asserted.