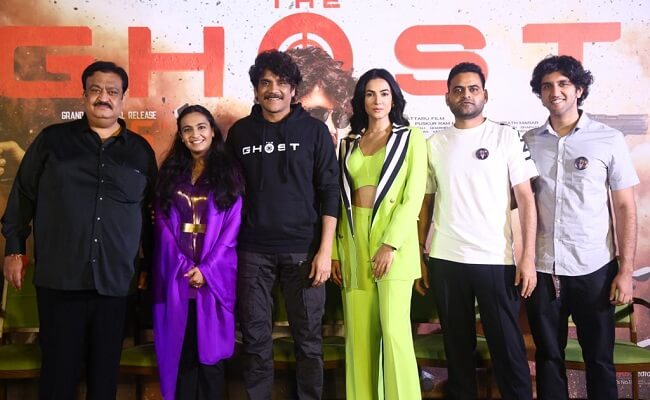 Nagarjuna's The Ghost under the direction of Praveen Sattaru is being promoted as an intense action thriller, comprised of family drama and romance.
Director Praveen Sattaru stated that his intention in making The Ghost is to show the action side of Nagarjuna to this generation.
He further revealed that there's a special episode to reveal the reason behind the title The Ghost and it will give goosebumps in theatres.
Nagarjuna made it clear that The Ghost is not just a regular action film.
"Technical aspects in the movie are of another level. Along with the content, technical aspects need to be good and the X factor should to be there to bring the audience to theatres. The movie has got the X factor. We've already watched the movie and are pretty confident about the outcome."
Nagarjuna also informed that the film has family emotions. "I compared The Ghost with Shiva, because this movie has family emotions and drama, more than the action."
When enquired whether he'll be contesting the next elections, Nagarjuna replied saying, "There are speculations about my political entry for the last 15 years. This news is emerging, whenever there are elections in the AP. I hope, that answers the question."
He also said it's the best phase for the industry, as films with good content are becoming super hits.
"It's a very good time for creativity and the Telugu film industry is in a good shape."