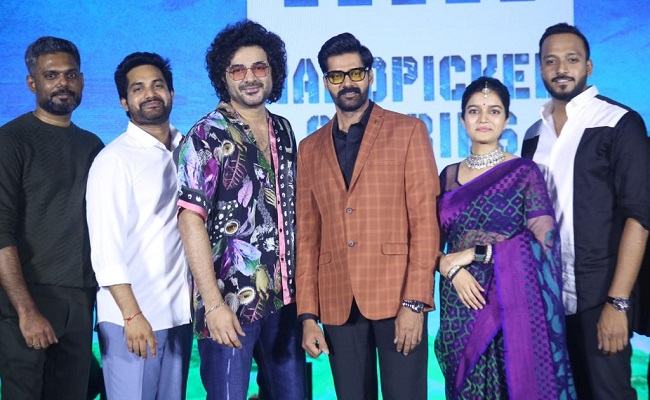 The pre-release event of Naveen Chandra, Swathi Reddy, and Shreya Navile's emotional family drama Month Of Madhu was held today with MM Keeravani and Siddhu Jonnalagadda gracing the occasion as guests.
MM Keeravani called Month Of Madhu as a feel-good movie. He also heaped praises on music director Achu Rajamani and compared him with the successful composers AR Rahman and Anirudh Ravichander.
Month Of Madhu is the second movie for Naveen Chandra with the director and producers, after Bhanumathi & Ramakrishna.
Naveen Chandra thanked the makers for giving him Madhu who represents many introverts in the world. He also expressed his wish to work under the direction of Ravikanth Perepu.
"Shreya nailed it with her performance. Swathi became a close friend, after Tripura. I have seen her ups and downs. It needs guts to play Lekha. Hope, We'll work together again. I became a fan of Siddhu, after watching one of his inspiring videos. I watched DJ Tillu 52 times. Waiting eagerly for Tillu Square," said Naveen.
Siddu Jonnalagadda appreciated director Srikanth Nagothi for his advanced ideas.
"He didn't get the desired appreciation for Bhanumathi & Ramakrishna because that film was ahead of its time. But I think Month Of Madhu is not ahead of its time.
The trailer of the movie is one of the best trailers in recent times. Achu Rajamani's Nenu Meeku Telusa was one of my favourite albums.
Naveen is one of my oldest friends. He is one of the first persons to call and tell me about my movies, after their release."
The movie is due for release on the 6th of this month.