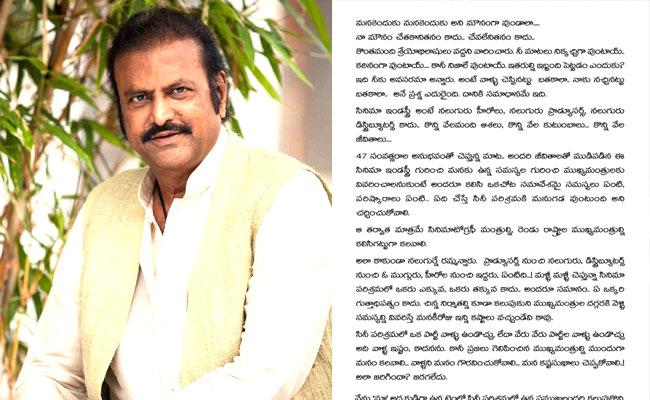 Mohan Babu released a letter addressing the film industry that everybody should be together and this industry never belongs only to a set of four families and four heroes.
This letter has raised many eyebrows as it sounds like a counter to Chiranjeevi who is trying to solve the issues being faced by the film industry from the AP government.
It should be remembered that Chiranjeevi also thanked KCR, the CM of Telangana State the other day for the GO to increase the ticket prices.
As per the inside sources there is an indication that AP government may resolve the ticket prices issue and give out a GO something in favor of the industry on 11th of this month. Prior to that an appointment is also fixed for Chiranjeevi to meet CM Jagan Mohan Reddy.
Now the industry people are discussing that, at the juncture where the issue is getting resolved amicably, this letter by Mohan Babu is not required. But only Mohan Babu should know the real reason that has driven him to write this letter.