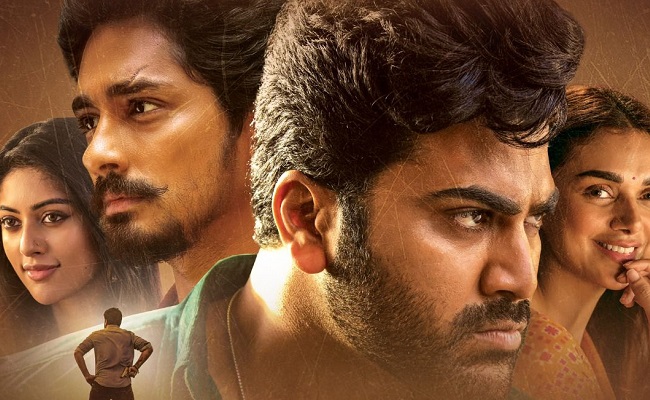 One big twist towards the climax made RX 100 becoming a cult hit. Director Ajay Bhupathi's second project Maha Samudram seems to be highly intriguing with many unexpected twists and turns in the story.
The film's theatrical trailer that is out now shows ocean of emotions with intense and stunning characterizations.
It's not a typical hero centric trailer, as alongside Sharwanand and Siddharth, every character is given utmost importance.
Ajay Bhupathi cleverly cut the trailer which mainly introduces us the main characters and their different shades, but it doesn't disclose the plotline.
In the very beginning Sharwa says, "Samudram Chala Goppadi Mama… Chala Rahasyalu Thanalone Dachukuntundi…"
Incidentally, there are many unrevealed secrets, as we can't decide the real nature of the characters and the kind of relationship between each other.
While first half of the trailer shows Sharwa and Sid in boy next door kind of getups, they look intense in second half with different getups and depictions.
Both extremely talented actors took their roles to next level with their power-packed performances.
Particularly, Sharwanand amazes with portrayal of his different shaded role. He wins brownie points for his makeover from a cool guy to an aggressive youngster.
Aditi Rao Hydari and Anu Emmanuel are shown to be in relationship with different guys. But the trailer is cut in a way that we can't conclude whom they are actually in love with.
Already Cheppake song created lots of confusion about relationships and now trailer further increases our inquisitiveness.
The dialogue "Ikkada Manaku Nachinattu Brathakalante… Mana Jathakanni Devudu Mandukotti Rasundali," uttered by Sharwa is a sample of intensity in dialogues which make strong impact.
There is wittiness and at the same time cruelty to the characters of Jagapathi Babu and Rao Ramesh, wherein KGF Ramachandra Raju appears in a ferocious role.
Ajay Bhupathi must be appreciated for penning such an intense story which gave scope to every character to perform.
Raj Thota's cinematography is praiseworthy, while production design looks glorious. Chaitan Bharadwaj's background score lifts the emotions brilliantly. We can feel the different moods in the narration with his different scores.
Ramabrahmam Sunkara has produced on Anil Sunkara's Entertainments banner, Maha Samudram will be arriving in theaters on October 14th and going by the trailer it is going to create collections tsunami at box office.