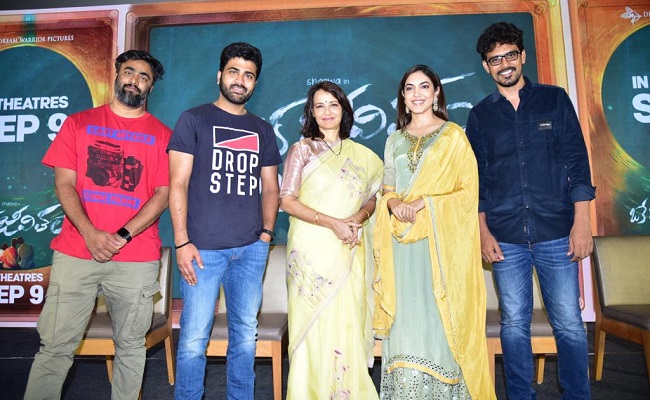 Oke Oka Jeevitham is a very special film for Sharwanand, not just because it's his 30th film, the story is very close to his heart and Amala Akkineni who played his mother is making her comeback, after long hiatus.
The film's trailer that was launched yesterday received well for its emotions, performances and technical brilliance. Today, the team hold a press meet.
Director Shree Karthick revealed the real inspiration for the story and his journey in making the movie. Actress Ritu Varma lauded Sharwanand for his performance and said Amala Akkineni is an inspiration.
Amala Akkineni thanked both her director and producer for bringing the story to her. She also informed that this film is not just about mother-son sentiment and it's just a part with lots of other elements.
"Mother can't be there forever. She can only be there to support. After that, it is your life. This cinema is about the life journey of three- the challenges and problems they face. They get a chance to correct things. But fate can't be changed. It's a very special film."
Sharwanand stated everyone will get relate to one or the other character in the movie. "We always worry about problems in the past or think about the future. But we don't recognize or enjoy the present. Life is beautiful, if we live in the present. Other than mother-son emotion, the movie has good entertainment. I'm proud of the film and we don't get such films again. I thank Karthi anna for supporting the movie, by doing a promotional song. I also thank Prabhas anna for posting the trailer. We also thank Anirudh for launching the trailer."