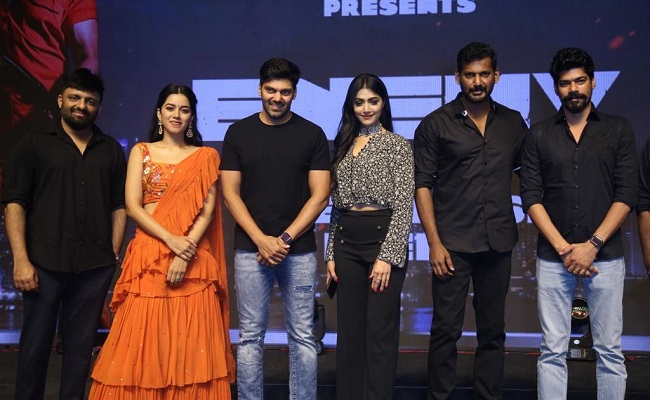 Vishal and Arya starrer Enemy pre-release event was held in Hyderabad today. The team paid tributes to late actor Puneeth Rajkumar, before starting the event.
Vishal turned emotional and he stated that they were in two minds whether to hold the event or not.
"Puneeth Rajkumar is not just a good actor, but a good friend as well. I haven't seen such a down to earth superstar like him. He was doing lots of social activities. I promise to take care of 1800 students who are getting free education from Puneeth Rajkumar from next year."
Vishal then thanked his producer for rejecting OTT offers to release it in theatres.
"It's not a film to watch in home theatres or small screens. It's my first film with Anand. When he narrated me the story, I felt it will be very important film in my career. I told him that Arya will be right choice. I also asked him to increase Arya's character."
Arya stated that it was Vishal who suggested his name for the role in the film.
"Vishal is like my brother. The film has got a nice storyline. It got emotions. It's about friends turned enemies. It has got so many layers between the two friends who turned into enemies."