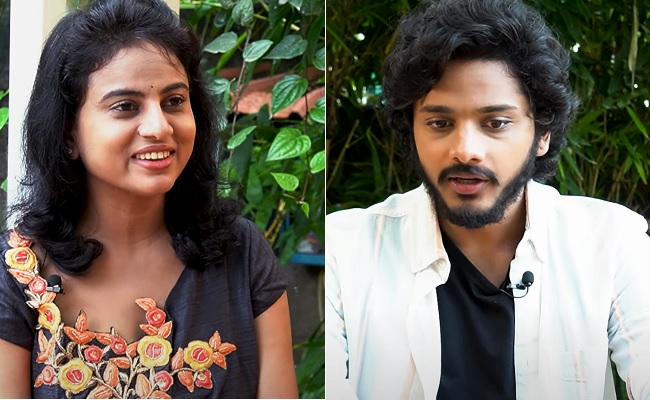 After first lockdown was lifted, young hero Teja Sajja came up with Zombie Reddy which was a commercial hit and now after second lockdown, his latest flick Ishq- Not A Love Story is all set for release in theatres on 30th of this month.
Teja in his exclusive interview with GA shared interesting aspects about Ishq, and next projects.
Teja says he's much worried whether people are aware of theatre re-opening from this week.
"We are trying hard to convey people that theatres will be re-opening and Ishq will be releasing on July 30th. Building credibility in audience is my goal."
The young hero has been choosing different genre films and Ishq is said to be a romantic thriller and it keeps us on the edge of the seat.
"I don't believe that one film can bring overnight stardom. We learn and gain something from every film we do."
Teja affirms the conflicting point of Ishq will be completely different from regular love stories. "If Ishq succeeds, I'll do more unconventional films."
About his romantic interest in the film Priya Prakash Varrier, he says she's very cool and settled actor.
Like previous films of Mega Super Good Films, Ishq is also a proper family entertainer, Teja clarifies.
He's all praises for his director SS Raju. "Director SS Raju is basically a writer. He worked as writer for Vakeel Saab as well."
The young actor says he took 10 years gap, before signing Oh Baby, as to complete his studies and also to prepare himself to play a lead actor.
"I learnt all the things required for one to become a hero. I trained myself in dance, fights, horse riding etc."
Though he was in industry for many years, he had to struggle hard for offers.
"I wandered around many offices for movie offers. Then, I got a character in Oh Baby. Later, I got Zombie Reddy with Prashanth Varma. The attitude of stay hungry made me to pick a different concept every time."
Teja declares he never had fear of camera or acting alongside popular artists, since he acted with stars like Chiranjeevi, Pawan Kalyan, Mahesh Babu etc. as a child artist.
He informs to have completed a 15 days shoot of Prashanth Varma's superhero film Hanu-Man where he plays an underdog kind of character.
Teja also affirms he has no qualms to do OTT content. "If a script is apt for OTT, I will definitely do it," says he.