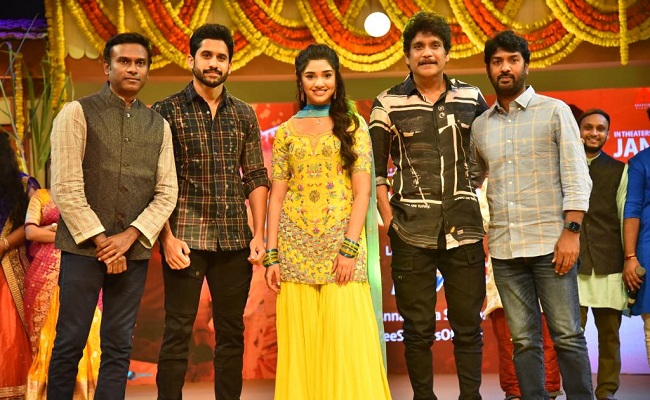 Nagarjuna and Naga Chaitanya's Bangarraju Musical Night event has been held today with the major cast and crew gracing the occasion.
Director Kalyan Krishna stated that all his three films under Annapurna Studios scored by Anup Rubens were musical hits.
"Nag sir's suggestions for all the songs and BGM were priceless. Chay spent 3 days in Anup's studio for his song with an intention of his song to be on par with Laddunda song. Nag sir is the only Bangarraju in industry. Now, Naga Chaitanya is coming in competition for Bangarraju."
Sumanth said that he loved all the songs of the movie adding he will watch the movie just to listen to the songs in theatre.
"Thanks to covid, I'm going to any theatre to watch movies, with mask on."
Krithi Shetty expressed her happiness for doing her first dance number in the movie.
"I thank Anup for making my first dance number so memorable. Thanks, Chay for being so awesome. It's honour to work with Nagarjuna and Ramya Krishna."
Naga Chaitanya recalled that they celebrated similar kind of event for Manam as well.
"Audio is very much important that if one viral song goes viral, the movie is getting huge openings. However, all the songs in Bangarraju are chartbuster ones. Everybody is stressing that it's a festival movie. Telegu audience wait for the festival to celebrate with friends and family. Bangarraju is one such film. I need to thank Nanna and Kalyan for giving me Bangaram lanti character."
Nagarjuna informed that the team is going to celebrate pre-release event soon and informed that trailer will be launched on 11th of this month.
Bangarraju is coming on January 14th on festival day. It's an important day for Annapurna Studios, as it was established on the day. Nanna's Dasara Bullodu was released on the day 50 years ago, and it was a musical blockbuster. Anup gave wonderful mass and commercial music. Every song is a diamond. This movie will be more than your expectations. The trailer will be out on 11th."
Interesting part of the event was Nagarjuna, Naga Chaitanya and Krithi Shetty's performance on stage. While Nag whistled, Chay hit stick on ground and Krithi made sounds with her bangles as to take part in performance of Vaasivadi Tassadiyya song.