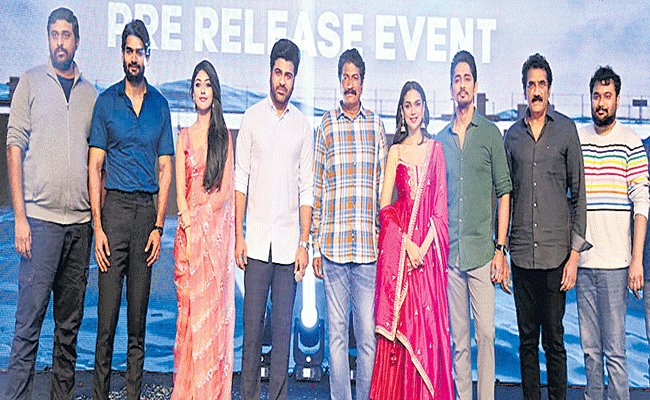 Sharwanand and Siddharth starrer love and action drama Maha Samudram's pre-release event took place yesterday. The event was attended by few special guests.
Director Ajay Bhupathi said, "I can never forget the journey of Maha Sammudrama. After the blockbuster of RX 100, I penned this script. I approached several heroes. Many who wanted to do only solo hero films also appreciated the story. Before RX 100 happened, I penned a story for Sharwanand. I couldn't even meet him then. I approached Sharwa For Maha Samudram, through Rao Ramesh.
Before that, I already narrated the story to Siddu. I along with Sharwa went to Anil Sunkara. After 1st wave, we started shooting and completed entire shooting in 4 months.
Story is the hero of Maha Samudram. Many including RGV said who will watch Sharwa and Sid together in a film. The two are the reason for the film has materialized. They believed in me completely. Even my producer Anil Sunkara too didn't question me. You don't see actors, but characters in the film."
Anu Emmanuel said, "I thank Ajay for giving me the character Smitha. We barely had any screen time together, but Aditi, you look stunning."
Aditi said, "I'm a Telugu girl. But I don't know Telugu. I'm trying, but always failing. But I'm always trying. Ajay, I thank you for believing in me and making me your Maha. I thank Ajay and my 2 heroes for treating me like an angel and also for pulling my leg all the time."
Producer Anil Sunkara said, "Maha Samudram is Ajay's baby. After his first movie, he's particular about casting 2 heroes for Maha Samudram. I liked his confidence levels. When Sharwa sent him to me, it's a new story for me. After watching RX 100, I felt this is the only guy who can handle this subject 100%."
Karthikeya who launched release trailer said, "I don't know why he wanted to make RX 100 with me. Whatever the life I'm leading right now is because of Ajay Bhupathi. He's like brother, father and everything for me."
Siddharth started his speech singing Apudo Ipudo song. "Teenagers, ask your parents that what's their favorite film, when they were in love with each other. They will tell you about Bommarillu. To give introduction to this generation, I sang this song. I'm your Siddu. Telugu people are the one who made me a star.
I've been waiting for this day for almost 9 years. I thank Gemini Kiran because of whom Ajay met me. Without Anil Sunkara, there's no Maha Samudram. After trailer release, everybody appreciated technical standards. Anu, you're wonderful as Smitha in the film. It's another great performance from you. It's a milestone film for every actor.
Aditi is Maha in Maha Samudram. She is an extraordinary performer. She's one of the finest actresses I've ever worked with. We have a reason for doing every film. Sharwa, I love you. He is a big take away for me. In my view, Maha Samudram is Sharwanand's film. Because of him, the film is made on large scale. I feel honor to work with him. Script and director should be the hero for every film which is good for cinema and art."
Sharwanand stated, "Siddu said, it's Sharwa's Maha Samudram. I don't accept it. Story is the hero of Maha Samudram. It will become a proud film for Telugus. I'm so proud to be part of this film. Rao Ramesh once told me Ajay Bhupathi has an extraordinary story. Without single cut, I okayed the script. The project has been okayed in just 3 days. Ajay Bhupathi's story is the reason for this film has materialized. The story revolves around 9 characters.
Maha is the main character of our film. It's a love story revolves around her character. It's very difficult to play the role. There's lots of depth to the character. Anu, you're the sweetest person I've ever met. Last but not the least, I love you Siddu. I got a good friend because of this film. He's already a big star with hits like Bommarillu and Rang De Basanthi. You're no less, you are the superstar and always be the superstar. Whenever my films came for festivals, they became super hits. Maha Samudram is coming for Dussehra. I confidently say this too would become another blockbuster."