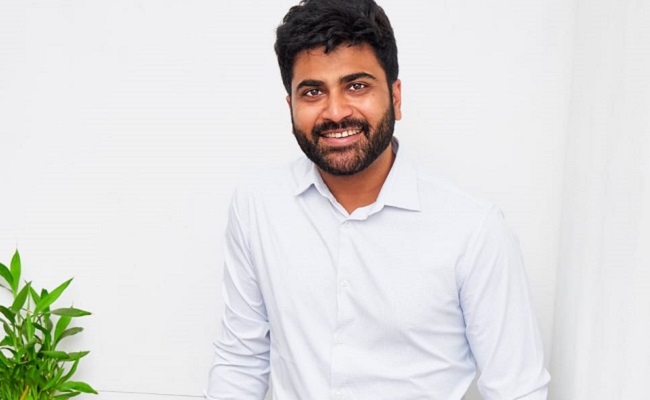 Sharwanand is a much-relieved man with all the accolades he received for his performance in Oke Oka Jeevitham which is doing decent business in week days.
Sharwa says the script has universal appeal, thus they made it as a bilingual in Telugu and Tamil. However, he says he'll do a Pan India movie, only when the script has the potency to appeal to audience across the country.
He played an introvert in Oke Oka Jeevitham. "I was an introvert and was insecure during my school days. But I'm not the same person now."
The actor promoted the movie like never before.
"When you show the product to people and when you get the confidence, you talk honestly. The producer and director believed the movie. Everyone worked genuinely. I really wanted to promote this film, so that it will have big reach. Sometimes, I didn't promote my movies aggressively because I didn't believe them."
Sharwa calls Oke Oka Jeevitham as a meaningful movie.
"Of course, it's my first sci-fi movie. But the emotional content is what interested me to do the movie."
The film has a complicated story which was not that easy for newcomers to handle.
"When your intentions are right, you'll tell a story genuinely. I understood Shree Karthick's intentions of making a good and emotional film, when he narrated me the story."
Sharwa took nearly 6 months break and he says it's not just to lose the weight and build a proper physique.
"I did lots of movies, before and during covid time. I thought I need that break to reanalyse on how to go my things forward and the kind of scripts I should choose. I was also certain about losing weight."
He, however, says he's not willing to put on weight even for a character in his movies.
"I won't do a movie, if I need to put on weight. My health is more important than anything else. I don't want to put on weight and again work hard to shape up my body. It took 9 months for me to become fit. It's easy to put on weight. But it's tough to shape up body. I can't go through that mental trauma again."
Sharwa who will next be doing a political drama under Krishna Chaitanya's direction says it's the character and the script which made him to sign the movie.
"It's a very challenging character which I haven't done before. We are planning quite a few workshops."
The actor has also informed that he has signed three more movies which are in script stages.