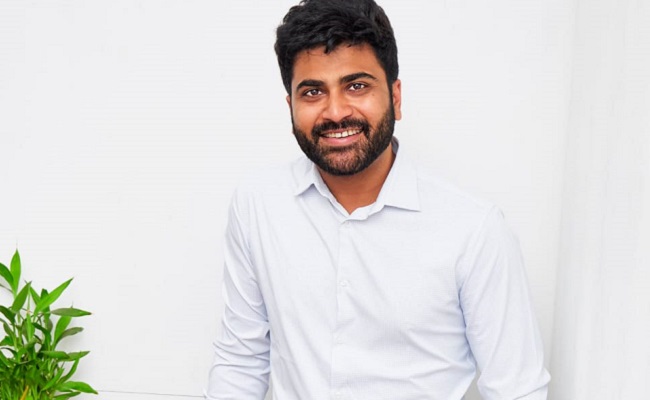 Sharwanand had four releases in a gap of two years and most of them were released during covid. The actor who put on lots of weight, after the major accident during Jaanu soot, has undergone superb transformation now.
Sharwa in his exclusive interview with us informs, "I got major accident during Jaanu. Due to anti biotics and steroids, I put on lots of weight. I did 4 movies during corona time. There was no gap for me to work out. I took 6 months break and I did not even shoot any movie."
The actor reacted about the rumors of charging high remuneration than his market value and his tiffs with a producer.
"I started earning, when I was 19 and I didn't take a single penny from my parents since then. I don't want to enjoy my parents' money. Money is definitely not my first priority. But I don't degrade myself by taking less remuneration. I don't like someone cheating me and I had a bad experience with a producer."
Sharwanand who lost weight and is looking fit now says he doesn't want to do regular movies. "I consider it as my second innings and I want to do different movies from now onwards."
The actor about his next release Oke Oka Jeevitham says it will be a memorable film.
"I can proudly say that Oke Oka Jeevitham will be one of the best films in my career. We rarely get such stories. There's no big and pure emotion than mother's love.
When I was first narrated the story, I asked director Shree Karthick that how did he write such story. He told me that, his mother was passed away five years ago and he's badly missing her. He had this feeling that if he had a time-travel machine he would go back and revisit his mother."
Sharwa calls SR Prabhu as a very passionate producer.
"SR Prabhu was particular about the film's release time and also he wanted the CG work to be perfect. We screened the movie for few people and made sure there won't be any mistakes."
He has also revealed much more about the film's story.
"Oke Oka Jeevitham is story of three people. Vennela Kishore and Priyadarshi are the other characters travel along with me. Their portion will be entertaining. One is uneducated and the other rejected many love proposals and he's unmarried now. What did they change, when they visit the past."
About his character, "My character has inferior complex. He used to sing well, when his mother is with him. However, he doesn't feel comfortable performing in front of many people. He, however, becomes normal, after revisiting his mother."
Sharwanand revealed many other interesting things about his next projects, industry happenings etc.
Watch the full interview here.