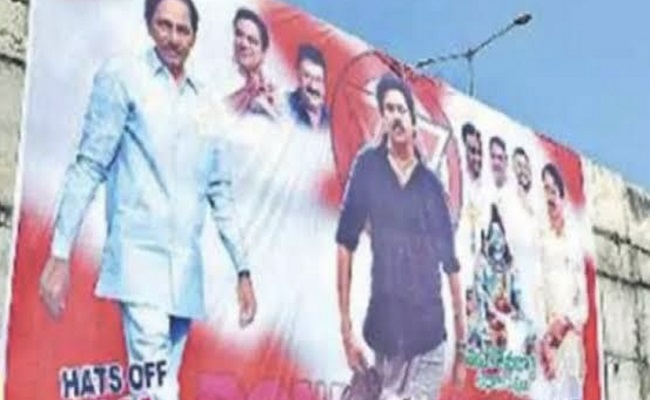 A huge flex board put up by the fans of power star Pawan Kalyan in Vijayawada on the occasion of the release of his latest Bheemla Nayak has been attracting the onlookers since Friday evening.
The flex reading: "Hats off CM sir," appeared at Krishnalanka fire station, evoking a lot of surprise among the people.
One might wonder why Pawan Kalyan fans are thanking YSR Congress party president and chief minister Y S Jagan Mohan Reddy, at a time when he and his party his government has imposed several restrictions on the theatres screening Bheemla Nayak.
Well, the flex board is not on Andhra CM Jagan Mohan Reddy, but his Telangana counterpart K Chandrasekhar Rao, whose big picture has been printed on the flex board in pink colour.
The flex also has the pictures of KCR's son and IT minister K T Rama Rao and cinematography minister Talasani Srinivasa Yadav, besides prominent Kapu leader of Vijayawada late Vangaveeti Mohana Ranga.
The Pawan fans are apparently thanking the Telangana chief minister and his team for giving liberal permission for the film makers of Bheemla Nayak for screening five shows in all the theatres for two weeks, besides substantially enhancing the cinema ticket prices.
Needless to say, the Pawan Kalayn fans have sought to provoke the Jagan government, which has strictly instructed all the theatres in AP not to screen extra shows, besides asking them to sell the cinema tickets at the older rates.
Some of the theatre managements have closed down their theatres in protest against the restrictions imposed by the government, saying they cannot run the theatres with such a lesser ticket rates.
In Krishna district alone, as many as 30 theatres are learnt to have wound up their operations on Friday and put up boards saying they cannot run Bheemla Nayak film at such a meagre ticket prices.