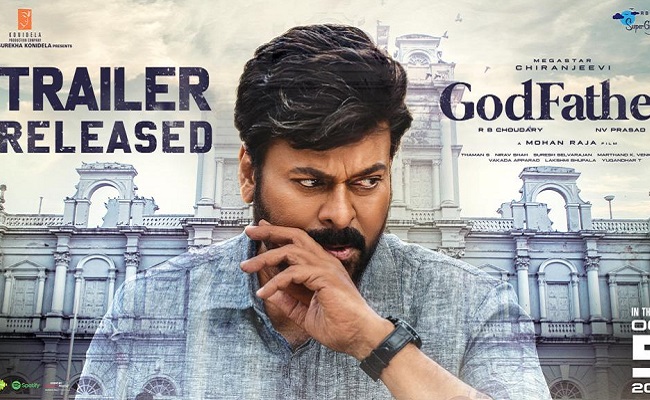 Megastar Chiranjeevi's GodFather theatrical trailer has been unveiled during the public event of the movie in Anantapur.
The trailer begins with a voiceover. There is a political vacuum in the state with the sudden demise of the chief minister, though many greedy party leaders are testing their luck.
Under these circumstances, Chiranjeevi makes an entry as a dangerous and mysterious man named Brahma and there's huge public comes in support of him.
He has big challenges ahead and the late CM's daughter played by Nayanthara too is not in support of Brahma, wherein her husband Satya Dev is dreaming to become the successor of his father-in-law.
Then comes Salman Khan as the biggest supporter of Chiranjeevi and we get to see the two megastars in action to eliminate their common enemies.
Besides heavy action and mass elements, the trailer has some powerful dialogues uttered by Chiranjeevi and it's evident through the video that the actor's recent political comments are from this movie.
Chiranjeevi's character has two shades as Brahma and GodFather and the megastar is at his massiest best. The prison number shows 786 which is Chiranjeevi's lucky number. Salman Khan gets classy mass moments towards the end of the trailer.
Mohan Raja has done his best to make this a gripping one, in terms of writing and taking. S Thaman has lifted the scenes with his BGM. The production design looks top-notch.
Going by the trailer, GodFather is a mass entertainer that is sure to please the fans and masses.
The movie will have its release in theatres in Telugu and Hindi on October 5th.