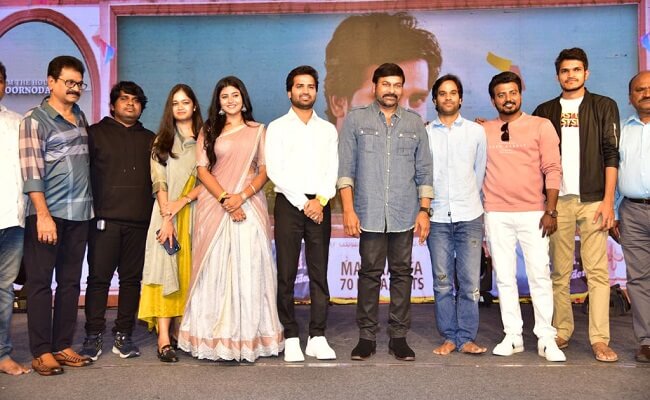 Anudeep KV provided script for the upcoming flick First Day First Show releasing in a couple of days on September 2nd.
Today, the film's pre-release event is held with megastar Chiranjeevi attending it as a chief guest.
Anudeep KV thanked Chiranjeevi for gracing the occasion and he revealed the conditions he put in before Edida Sriram, before starting the movie.
"We wanted to meet K Viswanath and the second condition was to bring Chiranjeevi garu for the pre-release.
During the making of Jathi Ratnalu, I and Naveen used to discuss about movies of Chiranjeevi and we took references of his comedy scenes for the film. I hope, he will do such comedy movies again."
Chiranjeevi spoke more about his association with Edida Nageswara Rao's family and he also gave his valuable inputs to actors and filmmakers.
"I did two movies under Poornodaya banner. I did a cameo role in my early days in Tayaramma Bangarayya. I feel proud to work under the banner. Edida Nageswara Rao garu in association with K Viswanath garu made many some classics which made Telugus proud. I visit the family whenever I go to Chennai. I don't know how much happy they are with my presence here, but I'm happier than them for attending this event.
The film industry is great. I went to other industry and when I came back, I came to know the greatness of the industry more. I feel it's an honour to be part of the industry and also for reaching this stage. We need to have the enthusiasm to succeed in the industry. Anudeep, you've done a fantastic job with Jathi Ratnalu. I'm happy to know that you gave chance to your assistant directors with the film.
I became Fidaa after listening to Arjun Reddy music. I loved Chitti song in Jathi Ratnalu. My wife's pet name is Chitti. I feel happy and energized to attend such events. Srija, we know her since she was a kid.
We always encourage when females come to industry. We need to welcome them. This is a respectable industry. I suggest her to be conscious on subjects.
There are doubts over audience coming to theatres. If the content is good, they will always definitely come and watch movies in cinemas. Recent hits like Bimbisara, Sita Ramam and Kartikeya 2 are best examples.
My advice to young directors that you need to analyse hits and flops. Emotion is more important or else a movie should be thoroughly entertaining like Jathi Ratnalu.
I too have first day first show experience. I was 6th standard then. It was AVM's Ramu starring NTR. My relative was a big fan of NTR. He had taken me for FDFS of Ramu. Nagababu had also come.
When we entered the hall, we couldn't even breath due to heavy crowd. My dad just came out watching previous show of the movie. He beat us badly. That's my FDFS experience. I wish FDFS will be a good start for Srija."