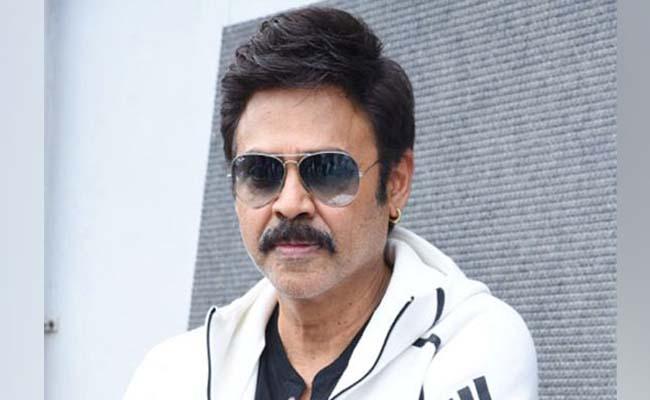 Venkatesh has become a completely different person altogether while promoting his upcoming film F3.
The actor who's basically an introvert has been doing some crazy acts in interviews and promotional events and has become more expressive.
He says there is always extra responsibility for actors as well as filmmakers, while doing sequel or a franchise, as expectations will usually be quite high.
"F3 is much bigger entertainer and there is no dull moment in the film. Although I don't talk about how much it collects, what I can assure you that, F3 has got much more humor with more characters come in and fresh kind of episodes from the beginning."
I always love comedy. Once you get into the character, the script needs expressions and body language. I never carry the tag of Venkatesh or some hero.
While he played intense characters in his previous movies Naarappa and Drushyam 2, Venky will be seen in a hilarious role in F3.
"When it comes to comedy, I don't know why, something happens to me. I go crazy and I just behave like I was in college with my friends."
Venkatesh says it will always be fun watching movies with friends or family in theatres. "The experience of watching movies in theatres is completely different."
The story of F3 revolves around money. "Everybody wants to make a big buck very fast and everybody has their own dreams. When trying new things, we go through lots of problems. We need to learn lessons and try to change."
Venkatesh says Anil is always energetic. "He's quite clear on what he wants. He's so young and he's doing a very good job. I've known him as a writer. He worked for our company for films like Masala. He's got wonderful spark."
The senior actor says he's a keen observer and he takes something or the other from different people. He affirms he uses different voices during the dubbing as to generate extra fun.
Venky says Varun Tej is a good co-star. "Varun too has improvised his character. It's nice to see him doing a completely hilarious role."
He says he did F3 not just because it's the franchise of F2. "I want something which people will identify, because they have to own the character, then only it will reach the wider audience. Everybody has that little greediness. I'm sure lots of people will connect to the content of F3."
This is third movie for Venky with Dil Raju. "I've known him for a long time. He's a keen observer of films. I knew he was very passoinate about making films and became film producer. I'm happy to see him grow so well and make lots of successful films. He's very hard working."
Venkatesh is entering OTT space with Netflix original Rana Naidu. "It's going to be quite crazy, it's something which haven't done in my 35 years of career. I'm doing a notorious crazy guy."
The actor says he doesn't believe in numbers, though he wishes producers make money from his films.