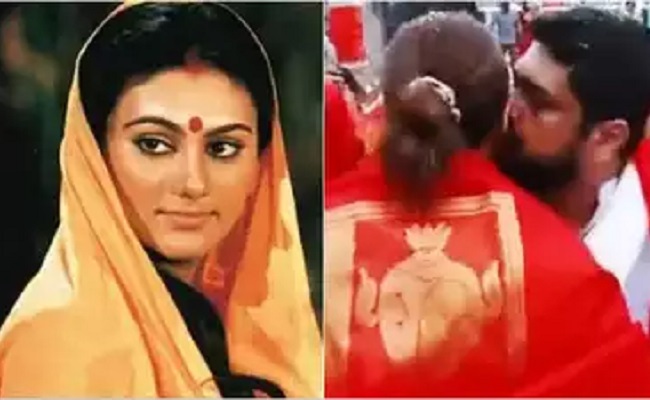 The recent visit of Adipurush director Om Raut and actress Kriti Sanon to Tirupati Balaji temple has ignited a controversy, drawing negative reactions from a section of internet users.
A viral video shows Om giving a peck on Kriti's cheek, which has been deemed condemnable by the head priest of the temple.
In response to the claims of hurting religious sentiments, Dipika Chikhlia, renowned for her portrayal of Sita in Ramanand Sagar's Ramayan television series, has expressed her disapproval of the incident.
In an interview with a news portal, Dipika criticized the actions, stating that it is a significant issue with actors today who fail to immerse themselves in the character or understand its emotions.
According to her, Ramayan may have been just a film for them, and it seems they haven't connected with it on a spiritual level.
Referring to the kissing incident at the Lord Venkateswara temple in Tirupati, Dipika mentioned that Kriti belongs to the present generation of actors, for whom kissing and hugging someone is considered a sweet gesture.
She added that Kriti would have never thought of herself as Sita ji, emphasizing the importance of emotions in such matters.
Dipika stated that while she lived the character of Sita, modern-day actresses merely consider it a role and no longer care after the film or project is over.
Drawing a comparison between the past and present, Dipika reminisced about a different era when no one dared to take their names on set, and people would come to touch their feet when they were in character.
She remarked that they were seen as gods during that time, and even hugging someone was unthinkable, let alone kissing.
Dipika concluded by highlighting that Adipurush actors will move on to their next projects and forget their characters after the film's release, which never happened to them.
They were treated as divine beings descending to Earth, and they always avoided anything that could hurt people's sentiments.