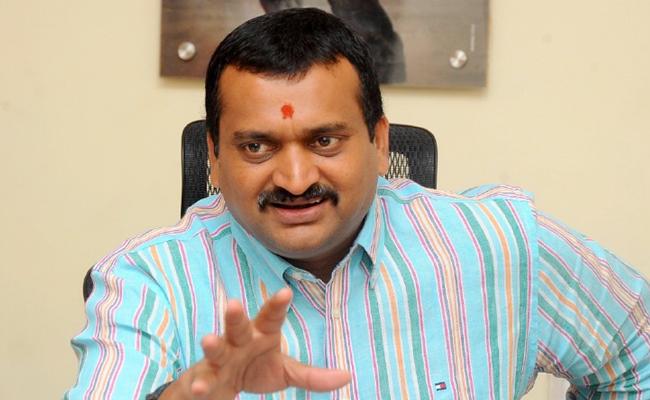 Film producer and actor Bandla Ganesh is known for his sharp and instantaneous reactions on any issue.
He wants to get things clarified immediately without giving scope for any speculations or interpretations.
A few months ago, Bandla entered into a slugfest with YSR Congress party general secretary and Rajya Sabha member V Vijay Sai Reddy on social media. Both of them abused each other in the filthiest language.
While Ganesh abused Sai Reddy for allegedly making nasty comments against the Kamma community, the YSRC MP shot back saying the actor-producer was a barking dog, broker, cheat, pickpocket and a pimp who arranges beds for his bosses and supplies them nuts and betel leaves.
There were rumours in the social media that former state irrigation minister and YSRC MLA P Anil Kumar Yadav called up Bandla Ganesh and warned the latter of dire consequences if he continued to make abusive comments against Sai Reddy on Pawan Kalyan issue.
During an interview to a media channel a couple of days ago, the anchor asked Bandla Ganesh whether he had received any threat call from Anil Kumar Yadav.
"No, there was no such call from the former minister. Was there any such statement from him?" Ganesh asked the anchor.
Even as the anchor was explaining, Bandla Ganesh picked up the phone and called up Anil. When the former minister picked up the call, the actor-producer asked him whether he had warned him on any issue.
Anil replied: "No anna, why should I threaten or warn you? I have nothing against you."
Ganesh said he had no personal enmity or rivalry with any leader of any party, including Sai Reddy.
"I only reacted to his tweet on Kamma community. If they have any rivalry with Chandrababu Naidu, let them fight on political lines. Why should the Kamma community be dragged into it?" he asked.
Bandla also clarified that he won't tolerate if anybody made any serious comments against power star and Jana Sena Party chief Pawan Kalyan.
"I feel hurt if anyone attacks Pawan Kalyan. Hence, I react strongly," he explained.
He also made it clear that it was not proper to drag women into political mudslinging – whether it is by the TDP or the YSRCP.
"I don't want to make any comments on Andhra politics as I have nothing to do with it. But I stand by Pawan Kalyan," Bandla asserted.