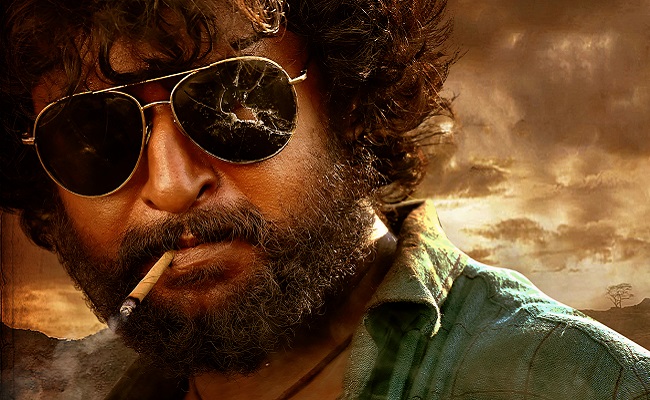 Nani is in no mood to do movies with regular and routine content. Though he experimented with different subjects, his next Dasara is the next-level stuff. If you have any doubts watch the teaser that is out now.
The story is set in a small village named Veerlapally in Godavarikhani of Telangana, where consuming alcohol is not an addiction, but a habitual custom to them. It's not called a celebration without mukka (non-veg) and sukka (liquor).
Every story has a hero and a villain. But in this story, the hero also looks like a villain, because of his appearance and presentation of the character.
Looks small when he stands in front of the effigy of Ravanasura, but after watching the dark and wild world, we realize how sturdy and mighty this character is. Very few portions are enough to describe the devilry of Shine Tom Chacko and Sai Kumar.
Without revealing much about the story, the teaser focuses mainly on showing the rawness of the characters and the prominence of the place. Breath-taking action, a grainy color palette, and the fidgety camerawork of Sathyan Sooryan make us restless. On top of it, the powerful dialogues and exceptional background score of Santhosh Narayanan bring dynamism to the narrative.
The series of sequences of Nani twirling his mustache, running through the field, grabbing a shovel from a statue, and finally cutting his finger to put the blood as bottu (bindi) show the fury of the character.
Nani's makeover for the character astonishes us. He simply lived in the character which needed him to go for remarkable transformation, utter dialogues in Telangana slang. His style of smoking beedi and drinking alcohol brings vitality to the character.
Director Srikanth Odela's writing and taking are the biggest assets. The world he created looks intense, raw, and brutal. The production values of SLV Cinemas are top-notch.
The teaser generates huge buzz and we can't hold our excitement to watch the next set of promotional material.
The movie that stars Keerthy Suresh playing the heroine is scheduled for its theatrical release on March 30th.