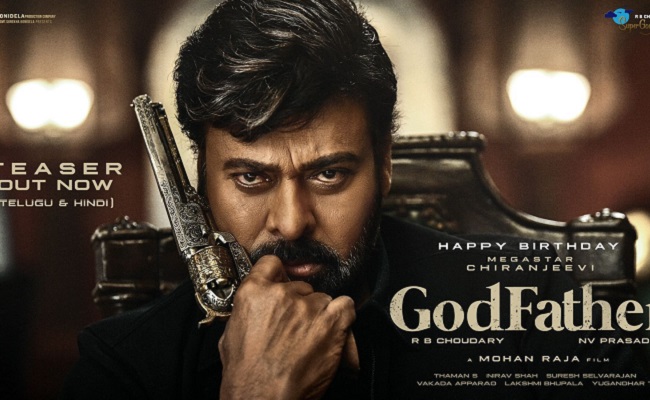 Megastar Chiranjeevi's much awaited teaser of Godfather has been unveiled, on the occasion of the actor's birthday. The makers unleashed the teaser in Telugu and Hindi.
The teaser begins with a voiceover which speaks about the protagonist who goes incognito for 20 years and gains popularity among general public, after his comeback in 6 years.
However, there are some people who are unwilling of his return, including Nayanthara. The chief minister played by Satya Dev orders his officials to kill him.
The supporters call him the boss of the bosses and the one and only Gangster.
Salman Khan is his biggest supporter who says, "Lag raha hai badi lambi planning chal rahi hai. Apne iss chote bhai ko bhool naa nahee. Kahe tho aajaathaa hoo mai. (Seems like, there's huge planning is going on. If you say, I'll come).
"Wait for my command," replies Chiranjeevi. Salman makes entry in a sports bike and it's an eye-feast to see the Bollywood star and Chiranjeevi together coming in jeep in last sequence.
The teaser is full of elevations with eye candy visuals by cinematographer Nirav Shah and thumping background score by S Thaman.
Mohan Raja presented Chiranjeevi in a mass-appealing character, wherein the latter amazes us in salt and pepper look.
Godfather is planned for its theatrical release during Dasara, this year.