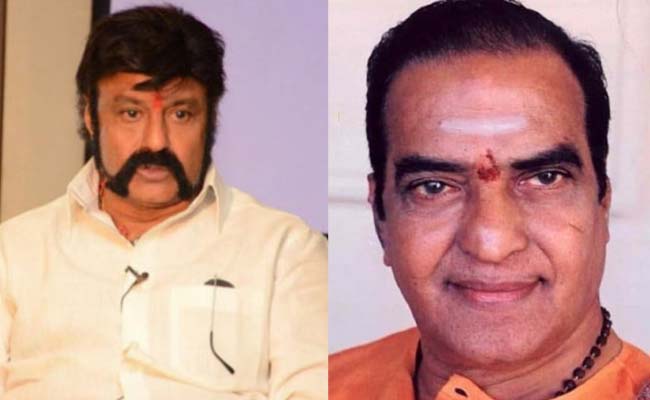 It is definitely a debatable issue whether the change of NTR Health University's name is justified or not. Of course, changing the names is not something new.
Even Chandrababu changed the name of Rajiv Arogya Sri to NTR Aarogyasri when he was in power. Later he had different plans which was revealed in a video released by Minister Vidadala Rajani in AP Assembly.
Keeping that aside, Balakrishna's way of condemning this is something strange. He implies that NTR, the father of 'Telugu Jathi' is insulted. But can every Telugu accept that?
It is needless to say that NTR was a talented actor. With the help of the media which was completely one sided for quite a long time brainwashed the people showing NTR as the icon of Telugus.
The media at that time brought down the image of Congress leaders and promoted NTR and his party. We understand many insights if we read the books written by Nadendla Bhaskara Rao. He wrote the real agenda of promoting TDP in the early 1980s.
When NTR started TDP, many small-time leaders of his community who migrated to Ichchapuram and Cheepurupalliu were also given the tickets only on community basis. At that time there was no influence of CBN on the party. It was the division of NTR on the advice of a media baron.
Thus a few people who belong to a community were given a chance in politics keeping the locals of other communities aside.
They picked up Narla Tata Rao, Kakarla Subba Rao and Koneru Ramakrishna Rao to place them in key portfolios. But as per their media, they were the only capable people in the entire state. NTR may be the father of a race for them but not for the rest of the communities.
But when NTR was backstabbed and pulled down from CM's chair, did Balakrishna lament at that time? Moreover he too joined his hands with Chandrababu in that menace.
Ironically he keeps on chanting his father's name in public meetings. He also got his daughter married to Chandrababu's son which proves to be the most painful thing for NTR if he were alive.
Well, all said and done, Balakrishna may only say that the changing of NTR Health University's name is an insult to his father. It cannot be for the entire 'Telugu Jathi'. If he speaks about 'Telugu Jathi', people think about only a single community.