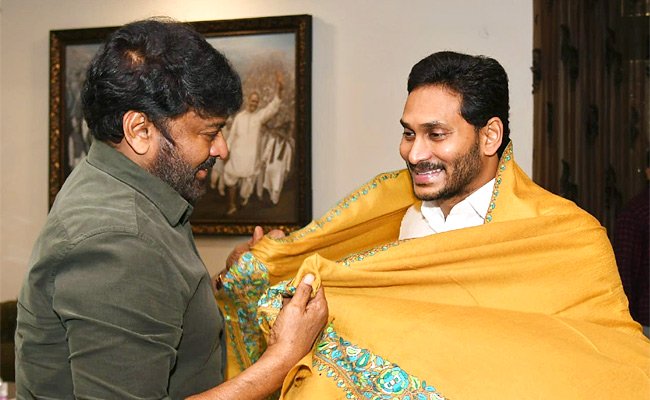 The ongoing row between the Telugu film industry and the Andhra Pradesh government over cinema ticket prices in the theatres has more or less been settled, thanks to the involvement of megastar Chiranjeevi.
Highly placed sources in the government said chief minister Y S Jagan Mohan Reddy, who had a cordial luncheon meeting with Chiranjeevi at his Tadepalli residence on Thursday, agreed to settle the cinema tickets' issue in a couple of weeks.
While Chiranjeevi explained to chief minister the constraints of the film industry and how low cinema ticket rates in the rural areas would cripple the cinema theatres.
Jagan, who had already got a lengthy briefing from officials on the subject, gave a patient hearing to the megastar's point of view.
Later, the chief minister told him that he would definitely increase the cinema ticket prices in various centres.
"We may not increase the ticket prices to the extent demanded by the film exhibitors at the recent meeting with the official committee, but it would be 70-80 per cent of what they want," he reportedly told the megastar.
Jagan suggested that the film industry representatives submit their proposal to the chief minister's office in the form of a letter and based on that, he would make the suggestions to the official committee working on the ticket prices.
"The committee would come out with a final draft of the prices and submit the same to the court by February 10, after which the government order would be issued," the chief minister told the megastar, who reportedly agreed for the same.
In the morning, Chiranjeevi flew down to Vijayawada in a special flight and drove down to the Tadepalli residence of Jagan straightaway. Jagan came out of his chambers and welcomed him personally, calling him "Acharya" (the name of the megastar's forthcoming film).
The chief minister hosted sumptuous lunch for Chiranjeevi and the highlight of the menu was Hyderabadi mutton biryani!