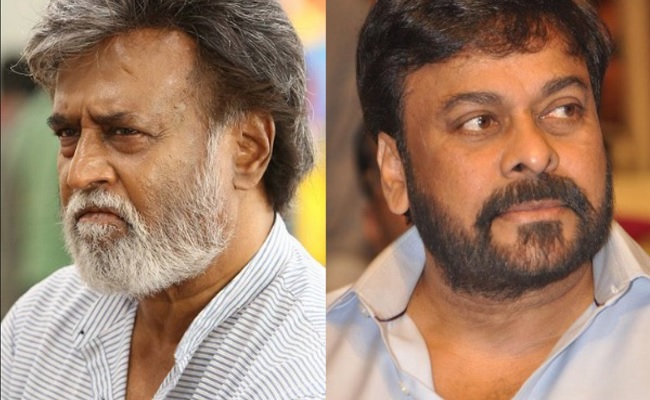 Tamil superstar Rajinikanth has disappointed millions of his fans and people of Tamil Nadu by announcing that he was dropping his plan to enter politics by floating a new political party on health grounds.
By doing so, Rajini risked his own credibility and faced a lot of trolling in the social media. Many described him as the most indecisive politician and a man without guts. There were comments that Rajini was the only person who quit politics even before entering it.
There are some people who appreciated his decision stating that for him, health is more important than politics and that public service could be done even without entering politics. They said one should respect his decision which he had taken for his own reasons.
However, there are some reports that Rajinikanth has dropped his plan to enter politics, after being thoroughly brainwashed by two of his best friends from Tollywood. One is megastar Chiranjeevi and the other one is Mohan Babu.
According to these reports, Chiranjeevi and Mohan Babu had met Rajini a few days ago when the latter was in his shooting for a film at Ramoji Film City. Apparently, Rajini asked their suggestions on his proposed launch of his new political party in TN.
It is learnt both Chiranjeevi and Mohan Babu had strongly advised Rajini against entering into politics.
"Politics is a dirty field. The kind of respect and affection you are enjoying as a film actor would not be there if you enter politics," they warned him.
Chiranjeevi especially brainwashed Rajini a lot and narrated his own experience in Telugu politics.
"It is very difficult to achieve success in politics because of several pulls and pressures. If you achieve success and come to power, it is okay but if failed to win the elections, you will be looked down upon," he told the Tamil superstar.
Chiranjeevi also told him that politics would put a lot of physical and mental stress on a person and given the fragile health of Rajini, it is not advisable to enter politics now.
After a lot of brainstorming with both Chiranjeevi and Mohan Babu, Rajini finally agreed to drop out from politics. But he expressed apprehensions that he would become a laughing stock if he opted out of politics at this stage since he had already announced launch of the party.
They reportedly advised him to get admitted to a hospital on health grounds and after a few days, make an announcement on quitting political plans.
"Nobody would question you, if you withdraw your plans on health grounds," they told him and he had followed their advice, sources said.
Click Here for Latest Direct-to-OTT Releases (List Updates Daily)